Telling their story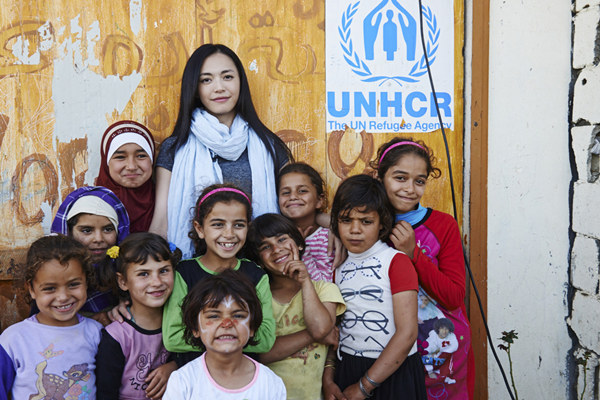 Chinese actress Yao Chen with children at a refugee camp in Beirut, Lebanon. Photo provided to China Daily
As an actress Yao Chen is used to portraying the lives of others. But since being appointed the first Chinese honorary patron of the UNHCR, she has found meaning in sharing the true life tales of some of the world's most vulnerable people.
After returning from visiting Syrian refugees in southern Lebanon in May, actress Yao Chen had a recurring nightmare.
"On the way home from the grocery store, I find my house has been bombed. Everybody is running and crying. I cannot find my family. Then I survive alone in the ruins. Desperate, drinking rain water. I cry and cry and feel so much pain and then, I wake up all of a sudden.
"I hope I will never live that life and never suffer from war," Yao told China Central Television.
In 2010, Yao became the first Chinese honorary patron of the United Nations High Commissioner for Refugees. The 34-year-old actress and "Queen micro-blogger" has raised public awareness and support for refugees in the Chinese-speaking world.
With more than 71 million followers on Sina Weibo (a Chinese micro blog), she has shared her experience visiting countries such as Somalia and Sudan and told the stories of the refugees she met there, bringing a new understanding of refugee issues to the Chinese people.
In June 2013, she was named UNHCR's Goodwill Ambassador in China. Yao sees the title as an encouragement of her work, and she says she will keep doing her job to the best of her ability. "Our visit can't change their fate or current situation but it will draw attention from others, and I can share the area's condition with more and more people," she says.
She pays for all her trips from her own pocket. However, she has faced a barrage of questions about her choices. Some Chinese netizens suggest her visits are no more than publicity stunts, and others ask why she traveled overseas to help refugees while neglecting Chinese people who need help.
These reactions initially made Yao feel "angry and wronged". Sometimes she even started to question herself.
"It's different now, and you can see the effect. It's comforting that more and more Chinese have started to pay attention to the group of refugees, and more and more are answering those questions for me," Yao told the Beijing News.