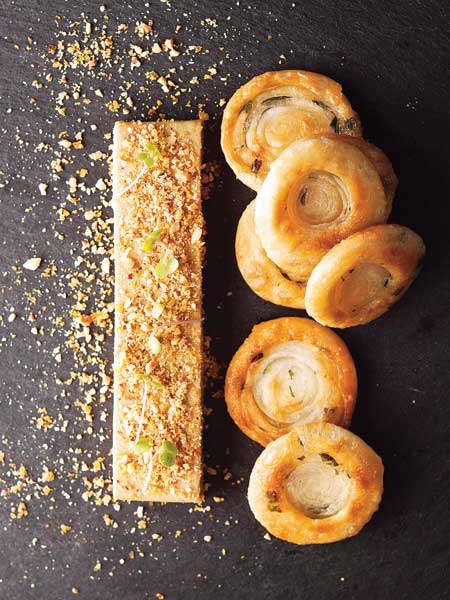 Shanghai scallion pancake topped with plum-jelly-coated foie gras mousse. [Photo provided to Shanghai Star]
Shanghai food has always been unabashedly heavy, its flavors enhanced by generous applications of the kitchen trinity of oil, sugar and soy. Xu Junqian talks to a chef who claims he was born "dipped in soy".
Chef Tony Lu believes Shanghai cuisine, or benbangcai, has been unhealthy since day one, blessed or blighted by the "greasy trinity" of oil, sugar and soy sauce in the Shanghai kitchen.
The award-winning Shanghai chef, who currently helms eight restaurants, four of which are in collaboration with luxury hotels such as the Four Seasons and Mandarin Oriental, says he can do nothing about it.
Nor would he. "If it's improved, or say, trimmed, it's no longer Shanghai cuisine. It will be like deodorized durian," says the 38-year-old, who describes himself "growing up with his palate dipped in soy sauce".
At Fu 1015, the three-story European-style villa built in the 1930's Chef Lu is giving the greasy trinity a makeover, and the facelift will make it "desirably unhealthy". The renovated Art Deco restaurant is tucked away on a quiet, phoenix tree-lined street, and marks the third collaboration between Lu and local restaurateur Fu Yafen. Fu stated in the industry 16 years ago with a four-table eatery.
The previous two, Fu 1039 and Fu 1088, are all named after the addresses of the restaurants, and they have scored dazzling success in the competitive culinary scene. The partners are taking a step forward with Fu 1055, the most expensive outlet, with an average cost per head hovering around 600 yuan.
No a la carte is offered, and no walk-in customers are entertained. Chinese antique furniture and art collected by Fu from all over the country fill the 13 VIP rooms, re-creating "the living and dining rooms of the Shanghai wealthy in the 1930's", as Chef Lu describes it.
"Guests are mostly self-invited, attracted by the reputation built on the other two Fu. If the other two serve as their regular dining out destinations, this is the place where they have something to celebrate," says Lu.