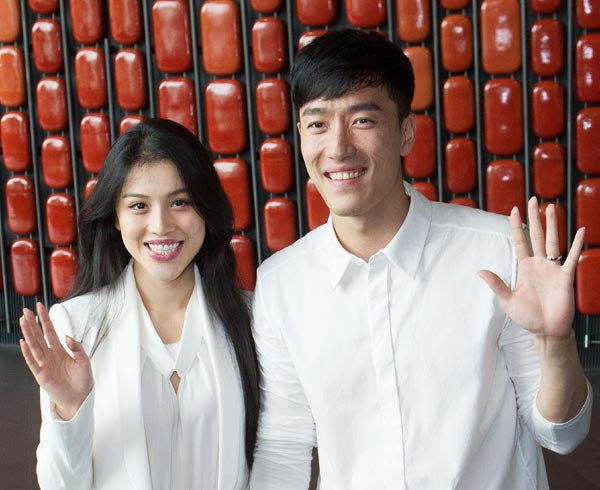 Liu Xiang and his actress wife Ge Tian at a news conference in Shanghai. Gao Erqiang / China Daily
The cover girl for top fashion magazines or an upcoming star in the entertainment industry?
Speculation is rife on the Chinese Internet about the future career of Ge Tian, a starlet who has been a newsmaker for the past few days after the announcement of her marriage to Chinese track star Liu Xiang.
Liu, the Chinese Olympic gold medalist and world champion in 110-meter hurdles, posted a photograph of himself and Ge intimately leaning against a hurdle on his Tencent micro blog on Sept 9.
The picture, with the caption reading, "my beloveds, it and her", was also posted on Ge's Sina Weibo on the same day, with the caption: "the person I love most, and the person who loves me most".
An earlier image, which has gone viral online since Sept 8, shows Liu carrying flowers and walking on the red carpet with Ge, while a woman is taking photographs of them. The website usportsnews.com reported that the image was circulated by an anonymous witness and Liu's father confirmed that his son registered with Ge for marriage at the Shanghai Civil Affair Bureau on Sept 7.
Numerous reports in the domestic media reveal that Ge, a graduate of the Central Academy of Drama - an incubator for celebrities such as actresses Zhang Ziyi and Tang Wei, has worked as a cover girl and inside-page model for fashion magazines, including CITYIN and the Chinese edition of the UK-based FHM (For Him Magazine).