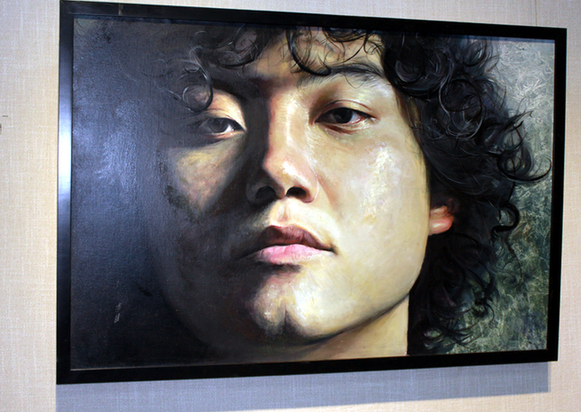 A self portrait by Li Muzi is exhibited at Shangba International Art Exhibition Center in Beijing from September 7 to 20, 2014. [China.org.cn]
A new artist launched his first solo exhibition in Beijing during the Mid-Autumn Festival that captured the essence of both Chinese and Western art.
Moses Li Muzi's "Soul to Speak" exhibition, promoted by Susan Wang's Onyx Gallery, was due to continue from September 7 to 20 at Shangba International Art Exhibition Center.
Dr. Yang Zhen, Dr. Hao Qingsong and Dr. Rasko Radovic, a member of the Royal College of Psychiatrists (London) and a PhD of the Université Panthéon-Sorbonne-Paris 1, attended the opening ceremony as academic advisors and consultants.
"Although using Western techniques, these works never lack the 'immediate nature of a captured feeling' that typifies Chinese traditional paintings," said Dr. Radovic. The artist "can seize the essence of Chinese scenery in both a realistic and abstract way, interpreting with the most daring shapes and colors."
In his latest series of abstract sceneries, the solid technique Li Muzi acquired studying at the academy is most apparent. "These fantastic 'soulscapes' have been painted with virtuoso brushwork in a minimalistic way, but on a large scale," Dr. Radovic added, "The spectrum of colors has been broadened and juxtaposed in the most daring ways. At the same time, there is evidence of an increasing mastery over the bigger canvas, which is no mean task."
Li was born in Jilin province in 1986 and graduated from the Second Studio of the Oil Painting Faculty of the Central Academy of Fine Arts before going on to study in the UK in 2010.
His works have been collected by both domestic and overseas private and institutional collectors, including the French brand Guy Laroche, Leo Burnett, directors of the investment firm Kohlberg Kravis Roberts (KKR), HSBC, well known lawyers, diplomats, the media and various art circles.