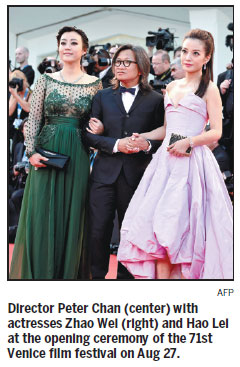 It was a surprise for fans to see
Zhao Wei
, one of the most famous actresses in China, portraying a rustic rural mother with a simple mind in a new
movie
presented at the ongoing Venice
film
festival.
In a career spanning almost 20 years, Zhao has starred in 26 films and 13 TV dramas, working with some of the most renowned Chinese filmmakers.
Notable works include Stephen Chow's Shaolin Soccer, Ann Hui's Jade Goddess of Mercy, Red Cliff I and Red Cliff II by John Woo, Gordon Chan's Painted Skin, The Resurrection by Wu Ershan and Daniel Lee's 14 Blades.
This time Zhao ditched makeup and wore short hair in Qin'ai de (Dearest) by Hong Kong director Peter Ho-sun Chan, as she plays Li Hongqin, a foster mother of a kidnapped baby boy brought home by her late husband.
When the biological parents comb through half of China and find their son in the remote village, they realize that he only sees themas strangers. Li is led by a trail of consequences to a fight for the custody of the child.
"When I was asked by Chan to play this character, I thought it would be very difficult for me," Zhao says.
"But then I told myself that I should trust such an experienced director, if he believed I was able to make it," she adds.