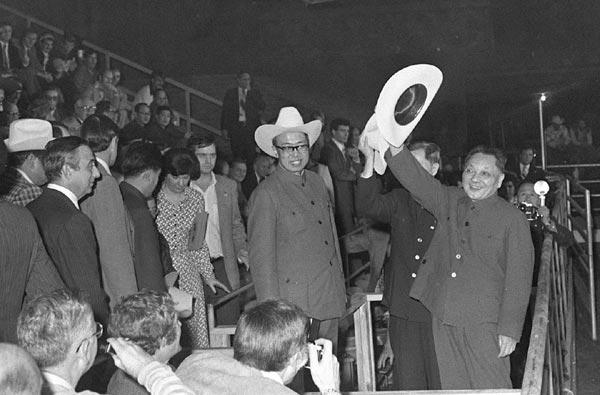 On Feb 2, 1979, Deng Xiaoping, then China's vice-premier, interacts with Americans after watching a rodeo near Houston. Xinhua
Deng Xiaoping's famous visit to the US in 1979 is captured in a new documentary arriving in theaters next year, Wang Kaihao reports.
For the first time, footage of an attempted assassination of China's legendary late leader Deng Xiaoping by a Ku Klux Klan member while he was visiting the United States in 1979 will be shown in a new documentary scheduled to be released around the country next spring.
Production of the film, Mr. Deng Goes to Washington, wrapped up last week.
The film records the nine days beginning on Jan 29, 1979, when Deng (1904-97) made his historic visit to the US, only one month after the country established diplomatic relations with the People's Republic of China.
Then China's vice-premier, Deng went to Washington DC, Atlanta, Houston, and Seattle, and was the first Chinese state leader to land on the soil of this longtime adversary after the founding of New China in 1949.
A quick montage of historical video clips in the film's trailer creates a tense atmosphere that makes the film seem more like a thriller than a documentary.