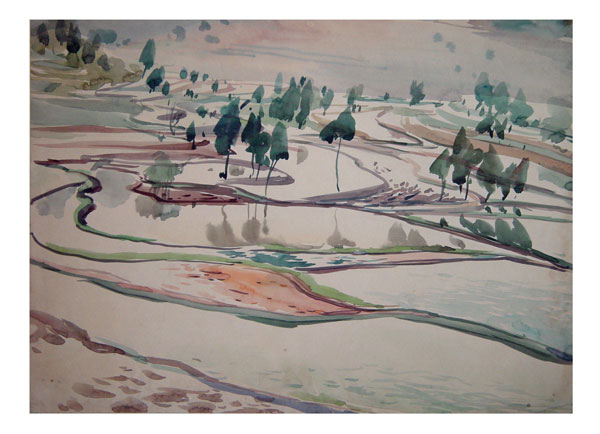 A piece of painting by Wu Liangyong. [Photo provided to chinadaily.com.cn]
Wu Liangyong, a noted architect and urban planner, has found lifetime enjoyment in the studies of architecture and fine art, which he combines in his design drawings and paintings. For years, the now 92-year-old took his sketch books whenever he traveled, whether at home or abroad.
He is now celebrating his decades of commitment to different artistic forms with an exhibition of 100 calligraphic works, watercolors, sketches and ink paintings, along with pictures and drawings of his six most acclaimed designs, which runs until Sept 9 at the National Art Museum of China.
Born in Nanjing, the picturesque ancient capital that boasts rich cultural traditions, Wu fell in love with painting in his teen years. He might have become a painter if not for war.
Wu and his elder brother escaped to Hechuan, now a district of Chongqing, in 1937, after his hometown was occupied by invading Japanese armies. He clearly remembers how terrifying the bombing by the Japanese invaders was on July 27, 1937, the day he completed his national college entrance exams. He was determined to become an architect so he could rebuild his homeland when the War of Resistance against Japanese Aggression (1937-45) ended.