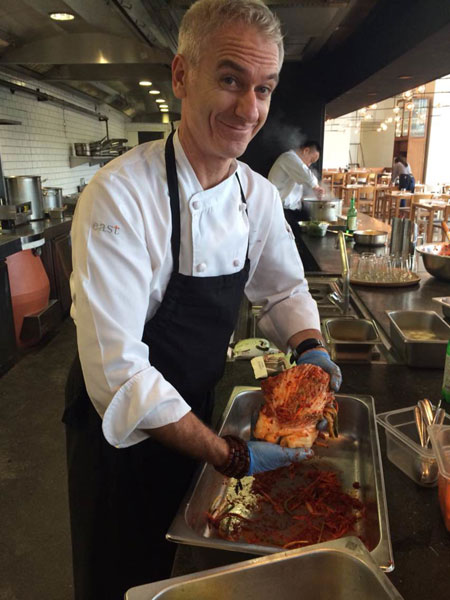 Chef Rob Cunningham prepares kimchee.[Photo provided to China Daily]
Rob Cunningham tells about his journey from a small-town life to an illustrious career in a luxury hotel in the city.
After running some attention-getting restaurant kitchens in Asia for several years, only a thatch of graying hair betrays that Australian Rob Cunningham is now 44. At work in the open kitchen at Feast in Beijing's East Hotel, the executive chef moves like a spring, almost bouncing amid his kitchen crew as they primp picture-perfect plates of ox tongue. His tattooed forearms pump like engine pistons, whether he's talking about pureeing parsnips in Beijing or slaughtering a hog back on the family farm in Milawa, Victoria.
While he's clearly animated in the bright lights of a big-city kitchen, Cunningham says he's still a country boy at heart.
"Back home, I was always the one who was skinning the pig or breaking down the bees (hives)," he says during a break.
His hometown was small - "there were about 30 kids in my middle school" - but there was a strong food tradition.
"Lots of Italian immigrants came there after World War II," he says, "and I watched and learned as they made gnocchi, preserved tomatoes and all kinds of jams. I was intrigued by it all."
Like other pig farmers, Cunningham says, "we sold a lot to Italian families, so we all made salami, ham and bacon."
As a farmer's son, it was a way of life not only to butcher livestock but to consume the whole animal, nose to tail. Many city folks today think it's no accident that "offal" and "awful" sound just alike, but Cunningham would like to get back to the more traditional - and less wasteful - approach he knew growing up.
"When we killed a beast - sheep, pig or cattle - we used everything," he says. "These days, people don't regularly consume all parts of the animal."
So Cunningham has launched the Carnivores Club at his restaurant, in part to push diners to appreciate the sources of their food. He recently invited guest chef Yao Yang to create a whole-pig menu designed with a gourmet take on secondary cuts and offal. The two had teamed up for a fundraising dinner last year, and found they had a great time cooking together.