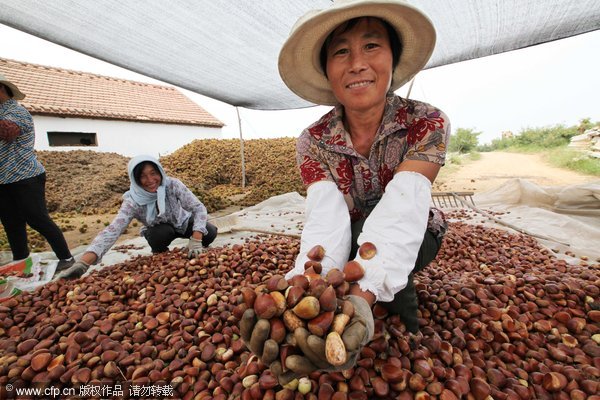 Farmer shows the harvested chestnuts in Xiajiagou county in Lianyungang city, East China's Jiangsu province, Aug 22, 2014. [Photo/CFP]
CHANGCHUN - Chinese farmers are eagerly anticipating support from domestic e-commerce giant Alibaba after it pledged to reinvest funds from its record initial public offering (IPO) into supporting them to sell their products online.
The company, which has made a fortune from Taobao.com, its e-commerce platform connecting small businesses with millions of online buyers, set a world record with its IPO on the New York Stock Exchange on Friday. Its stock has since jumped 32 percent from the IPO price of $68 a share to $89.89 when markets closed on Monday, valuing the company at around $218 billion.
At a ceremony in Northeast China's Jilin province on Monday, Alibaba group president Jin Jianhang said that business-customer e-commerce in the agriculture sector, along with big data and cross-border e-commerce, will be the company's main business focuses after the stock market listing.
Jin said Alibaba is committed to establishing a dedicated agricultural platform on Taobao.com, through which farmers selling products will be able to enjoy services including marketing and logistical support, as well as product tracing.
Individual farmers' access to market has long been an issue for Chinese agriculture, but Sun Dianpu, head of the commerce bureau of Gongzhuling city, Jilin, said the bureau will provide farmers with training to help them sell on Taobao.com.
Yu Xianghai, manager of the website's innovation department, said that China's agricultural areas, though economically backward, produce high-quality goods, while local farmers have a strong desire to improve their lives by selling their products via online retailing channels.
Jin said Alibaba may cooperate with Evergrande Group in developing agricultural e-commerce in the northeast China region.
Evergrande, the Guangzhou-based real estate company, has recently moved into the agricultural sector by launching a series of products including organic rice and oil.
The logo of the company's grain and oil brands, produced by its newly purchased production bases in northeast China, were first unveiled in August on the shirts of soccer players with Guangzhou Evergrande, a club in which Alibaba is a shareholder.
Jin said future cooperation between Alibaba and Evergrande in agriculture e-commerce will boost rural consumption, employment and income in Northeast China, known as the country's breadbasket.
It has generally been considered difficult to sell farm produce via e-commerce platforms. However, sales through Taobao.com grew at an annual average of 112.15 percent from 2010 to 2013.
And with the development of cold chain logistics, these sales are expected to reach 80 billion yuan ($13 billion) in 2014, up from 3.7 billion yuan in 2010.