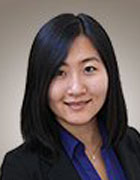 Tang Jia.
Researcher at Analysys International 

I expect investors to be passionate on Alibaba's debut. Its targeted price-to-earnings ratio could be in line with its peers Facebook, as both revenues are mostly generated by advertisements or commission fees.

Alibaba, acting as an online platform between buyers and seller, has a very high operating margin (57 percent compared to Ebay's 28 percent and Amazon's one percent). Their cost is manageable.
If we analyze those listed assets together with the unlisted, the most magic that lies in the whole Alibaba group is that all of its businesses are interconnected. Buyers at Taobao or Tmall can use Alipay to facilitate their online payment; sellers, on the other hand, can receive small loans to fund their business online via Alibaba.

Almost all Chinese Internet giants are now listed companies. As the strong grow stronger, it will be difficult for new comers. They can't expect to bring a sea change as landscape has already formed. However, young e-commerce companies could start with their niche.
As for global market, I think Alibaba is right to avoid upfront competitions with Amazon and Ebay and explore Russian and Brazilian markets instead while acquiring boutique e-commerce companies in the US. Its overseas presence with Ali Express will continue to grow fast given the base is relatively low.

Alibaba's major B2C platform Tmall has huge potentials, considering there are still so many brands, domestic or overseas, yet to become its registered sellers. But unlike Taobao gaining its dominant role so easily, there will be a tough battle ahead. Tmall has to outrace JD and other niche competitors such as Vipshop.
I really like the high-quality data Alibaba has. Their data track more than our online behavior, but daily consumptions as well, drawing a profile for our day-to-day life. Those data will be very valuable if Alibaba expands its online-to-offline business.