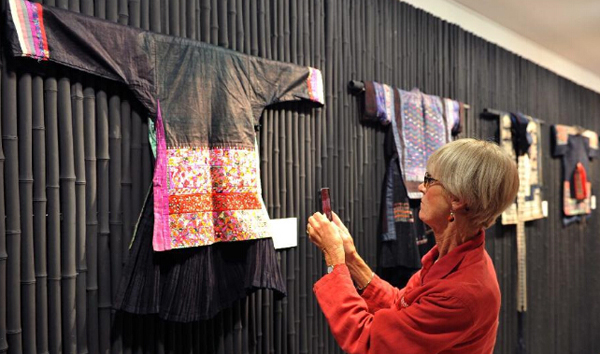 A visitor looks at an embroidery work during the 2014 China Miao Embroidery Exhibition for Public Benefit at Xinhua Photo Gallery in downtown Paris on Sept 30, 2014. [Photo/Xinhua]
The 2014 China Miao Embroidery Exhibition for Public Benefit, co-hosted by fashion magazine Marie Clarie and China Soong Ching Ling Foundation (CSCLF), opened at Xinhua Photo Gallery in downtown Paris on Sept 30.
It coincided with a wave of traditional Chinese culture that swept over Paris Fashion Week, leaving great Chinese ethnic features on events.
More than 200 people from cultural circles, the entertainment industry and fashion media attended a wine reception that marked the exhibition's opening ceremony on Sept 30. They had a chance to make a close observation of the embroidery works from the Miao ethnic group of China. The Marie Claire Female Happiness Fund held the 7-day exhibition of Miao embroidery to celebrate the 50th anniversary of establishment of Sino-French diplomatic relations, present the beauty of traditional Chinese culture to the whole world, and facilitate cultural exchanges between China and France.
Qi Mingqiu, vice chairman of CSCLF, delivered a speech at the opening ceremony, saying that since Miao embroidery is a symbol of Chinese cultural treasures, the exhibition was not only a display of the staged achievements of rescuing cultural heritage, but also a new attempt to promote Sino-French cultural exchanges.
The hosts expected to inject new vitality to Miao embroidery via the power of fashion. According to Deng Li, the executive editor of Marie Clarie, "The charm of handicrafts lies in the real faces behind each of the works. You can see the crafters trying to earn more money so that they can afford medical treatment for the old, the basic necessities for children, or save up for a dowry. We hope we could bridge the gap between traditional handicrafts and modern fashion design, and get traditional embroidery and silver ornaments turned into an important part of the Chinese advanced customization industry."
The Miao ethnic group, as one of the oldest ethnic groups in China, boasts brilliant costumes which are honored as "the living specimen of Chinese costume history". And Miao embroidery is seen as the essence of Miao costumes, with more than 100 embroidery methods. However, Miao embroidery might fail to be handed down since it is traditionally passed on from mothers to daughters, but the Miao women have changed their lifestyle, leaving them with no time to work on embroidery.