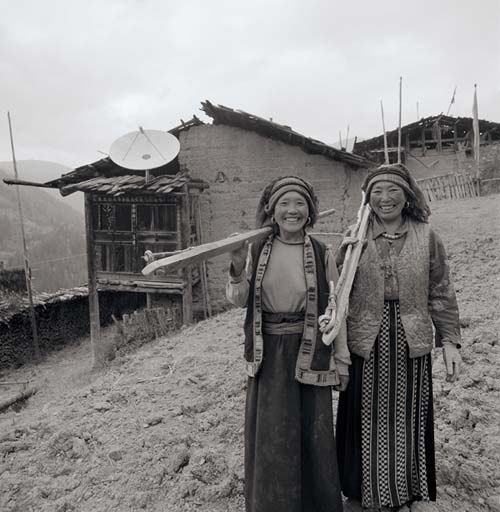 Gao Tunzi photographs the daily scenes of the ethnic Qiang people with a focus on embroidery. [Photo provided to China Daily]
Photographer and filmmaker Gao Tunzi will present a visual exhibition portraying rural ethnic Qiang, and especially their embroidery, as a "gift" for Shanghai youth for International Children's Day.
Many of the 16 photos on display at Atrium, a public space in a Shanghai shopping mall, feature scenes of the daily lives of the ethnic Qiang people who live in southwestern China, mostly in Sichuan province.
Many of the images, selected from thousands Gao has shot since 2008, feature the ethnicity's colorful embroidery. Embroidery has remained important to the Qiang for millennia as a medium to tell stories from sagas to family histories.
You Liyu, a 35-year-old mother who brought her child to the show, says many parents are buying their kids clothes for the holiday.
"Bringing children to the exhibition shows them another way to dress. It expands their knowledge. The exhibits depict clothes not only as fashion but also as a craft and lifestyle, and reveal ethnic diversity."
Embroidering is considered an essential skill for Qiang women. Their aptitude in the craft is traditionally hailed as a benchmark for their overall adroitness, Gao says. "The garments worn by the people in the photos show Qiang embroidery values vibrant colors and contrasts," he says.
Today's Qiang often dwell on mountains in clusters of up to 100 households called zhai, which means "fortress village". Inhabitants cultivate plants, hunt animals, collect mushrooms and herbs, and herd yaks.