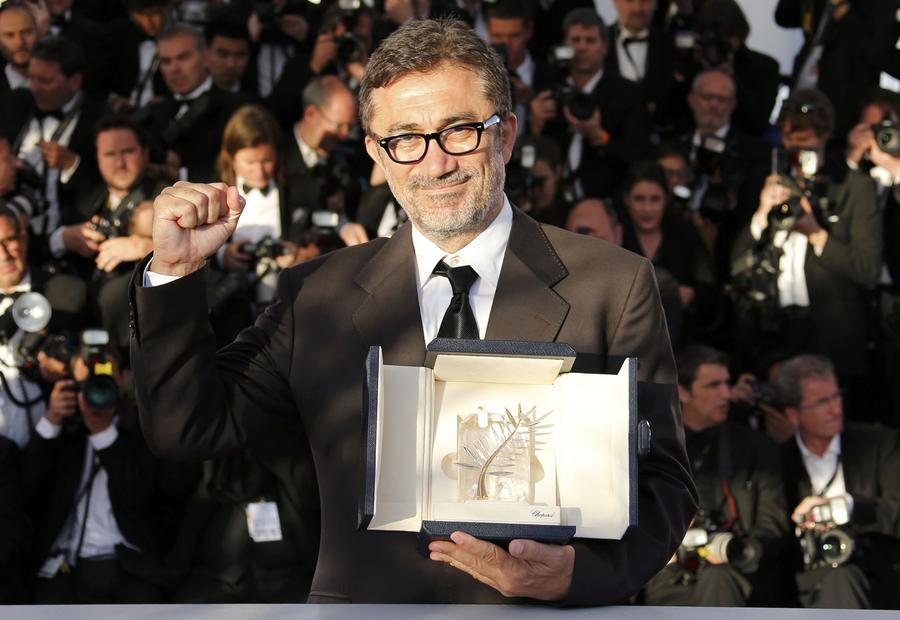 Director Nuri Bilge Ceylan, Palme d'Or award winner for his film "Winter Sleep", poses during a photocall at the closing ceremony of the 67th Cannes Film Festival in Cannes May 24, 2014. [Photo/Agencies]
CANNES, France -- Turkish movie Winter Sleep, directed by Nuri Bilge Ceylan, won the Palme d'Or (Golden Palm) for the best film at the 67th Cannes Film Festival on Saturday.
The winners of the 2014 Cannes Film Festival were announced on Saturday evening at the closing ceremony.
With two Grand Prix and a Best Director Award, Ceylan returned to Cannes this year with his seventh full-length feature film, which lasts three hours and 16 minutes.
The story takes place at a hotel. Aydin, a former actor, runs the small hotel in central Anatolia with his wife Nihal, with whom he has a stormy relationship. His sister Necla is suffering from her recent divorce.
In winter as the snow begins to fall in the Anatolian plains, the hotel turns into an inescapable place that fuels their animosities.
Explaining the length of the film, Ceylan told a press conference following the awarding ceremony that "When I write a script I never consider the commercial side and I just write like the novel writer. So when we finished the script we realized that it was two times longer than the one of my previous movie Once Upon A time In Anatolia."
"At first it was 4 and half hours but in the editing I worked hard to make it at this length. This time, I and my wife wrote the script together and the characters and the story brought us to such long story," said the director.
"In general I can find enough motivation only if I make movies about the human nature," said the director.