Met Gala dress code inspires sartorial rebels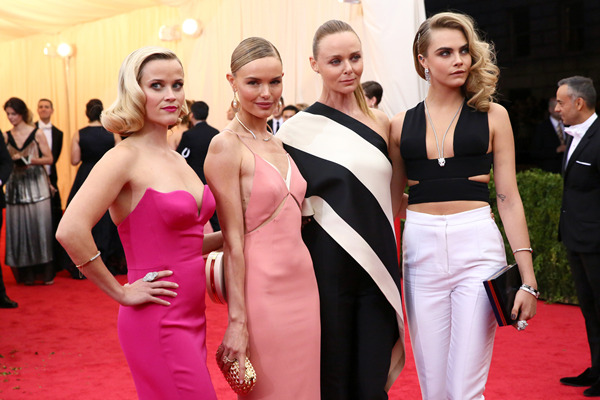 (L-R) Reese Witherspoon, Kate Bosworth, Stella McCartney and Cara Delevingne attend the Metropolitan Museum of Art's 2014 Costume Institute Gala. Photo provided to China Daily
The Metropolitan Museum of Art was filled with rule-breakers during the annual Costume Institute Gala this year. "I'm a rebel," A$AP Rocky shrugged, his mouth full of gleaming silver, before heading into the Charles James: Beyond Fashion exhibition.
It was a sentiment echoed sartorially by most male guests, including Prabal Gurung, Andrew Rosen, Joseph Altuzarra, Michael Kors and Olivier Theyskens, who eschewed the dress code specifications of "white tie and decorations" in favor of the standard tuxedo.
"Someone stepped on them and they fell off," Derek Lam cracked when asked where his coattails were. Jack McCollough and Lazaro Hernandez says the tails have a "shortening" effect. They tried them on and didn't like the look. "We called Anna (Wintour) and she gave us her blessing," Hernandez says.
Though only a small portion of the men followed the dictum, they garnered the most attention. "Men, we don't get a lot of variation," John Legend says while making his way to the receiving line in his vintage Ralph Lauren look. "It's nice to get to do something outside the norm. It's different. I like it." Further into cocktails, Johnny Depp thought a new dressing mandate was in order. "This dress code should be mandatory for most events," he said of his Ralph Lauren tailcoat, which he wore complete with spats and a cane. Tom Ford is already onto the trend. "Actually, we do live in London," says the designer. "And in June we sometimes dress in white tie."
Gisele Bundchen surveyed the room. "I've never seen a man in a tailcoat before, but it's very interesting," the model said as her husband, Tom Brady, stood nearby in a standard tuxedo. "Very chic."
Just as guests were about to sit down for dinner, Kanye West and Kim Kardashian came in. "I don't have much to say," the predictably terse West growled when asked about his dress-code-heeding ensemble. "It's Lanvin. That's all I'll say."
Oscar de la Renta's decorations included his Legion d'Honneur as well as a special honor he received from the King of Spain.