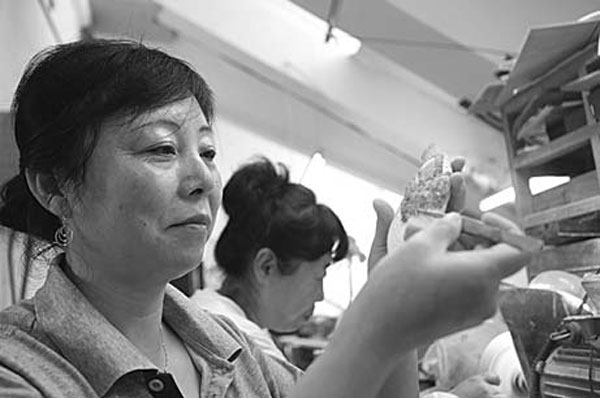 Liu Miaoling, 50, makes shell pictures in Dalian, Liaoning province, on Aug 19.  Zhang Chunlei / For China Daily
For many artists, the Qingming Festival by the Riverside - a famous Chinese 1,000-year-old painting - is a source of inspiration.
Liu Miaoling, 50, and her fellow craftsmen in Dalian, Liaoning province, made a 16-meter-long and 0.8-meter-wide version out of shells. It took more than 10 of them about three years to complete the work.
"Look here. What do you think this man in purple is doing?" Liu asked, pointing to the central part.
"He seems to be the owner of a nearby food stand, trying to persuade a man in pink to take a seat. But the one in pink and his companion say they wanted to have a look on the other side," Liu chuckled while talking to China Daily.
The Qingming Festival by the Riverside is a realistic painting about the prosperity of all walks of life in the capital city of the Northern Song Dynasty (960-1127). It depicts more than 500 human figures, some 60 animals, 20 wooden boats, 30 rooms and pavilions, and about 20 vehicles of various kinds.
For every detail, Liu asked herself questions before choosing suitable shells, taking into consideration different colors, shapes and thickness.
For example, the glazed roof tiles were made of clamperl, a kind of shell whose color changes gradually from black to yellow and white.
They used 20 types of shells, several of which were imported from other countries, to replicate the famous painting.