The National Museum of China recently launched a research institute for the works of late painter Shi Lu, a first at the Beijing-based museum to study modern Chinese art.
The Research Center of Art of Shi Lu was formed on the basis of family donations totaling nearly 300 works by Shi Lu (1919-82), a 20th-century master of Chinese art, who founded the celebrated Chang'an Painting School along with fellow painter Zhao Wangyun.
Shi Lu was born in Sichuan province as Feng Yaheng. He lived in Shaanxi province for several decades until his death. He took the pseudonym Shi Lu, taking the name from two people he admired: Qing Dynasty (1644-1911) painter Shi Tao and writer Lu Xun (1881-1936).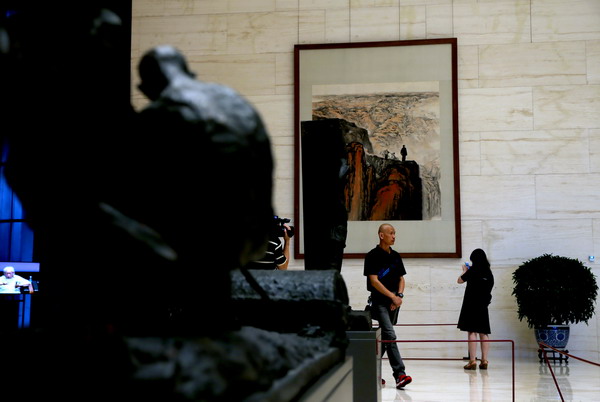 Shi Lu's masterpiece Fight in Northern Shaanxi is permanently displayed at the National Museum of China. Jiang Dong / China Daily
Shi Lu's family donated 151 of his paintings in 2012 and more recently gave another 142 of his paintings, calligraphic works and sketches between the 1950s and '70s.
The collections include Redeveloping the Terraced Field in Mountains, a massive painting that he made in 1958 to portray the construction of terraced fields in mountainous Shaanxi province during the Great Leap Forward movement.
This painting was also at the center of a lawsuit over ownership.
It had won wide acclaim as an unrivaled example of Shi Lu's "construction scene-themed landscapes" and his artistic view that "one hand stretches out to tradition and the other to life".
In 2010, his family received 44.57 million yuan ($7.26 million) at an auction by the Beijing Googut Auction Co. The buyer from Shandong province, however, later complained that the auction house had employed fake bidders to push up the price during the sale and filed a lawsuit. A local court ruled the auction invalid.
Googut then sold the painting to Zhang Zhenyu, a collector from Hainan province, against the wishes of Shi Lu's family.
It took the family about two years to win a lawsuit in favor of the painting's return to them, and finally last month, they handed it over to the National Museum of China.