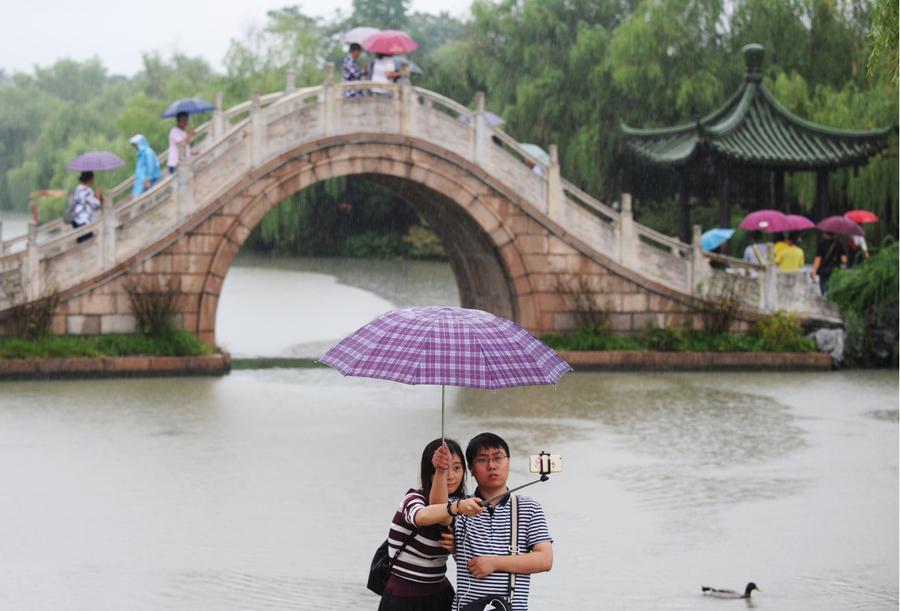 Visitors take photos in the rain at a scenic spot in Yangzhou, Jiangsu province, Sept 15, 2016. [Photo/Xinhua]
The traditional Chinese lunar calendar divides the year into 24 solar terms. Autumn Equinox, (Chinese: 秋分), the 16th solar term of the year, begins this year on Sept 23 and ends on Oct 8.
Autumn Equinox lies at the midpoint of autumn, dividing autumn into two equal parts. After that day, the location of direct sunlight moves to the south, making days shorter and nights longer in the northern hemisphere.
Here are 8 things you should know about Autumn Equinox.
Cool autumn
As it is said in the ancient book, The Detailed Records of the Spring and Autumn Period (770-476BC), "It is on the Autumn Equinox day that the Yin and Yang are in a balance of power. Thus the day and night are of equal length, and so are the cold and hot weather."
Since the Autumn Equinox, most of the areas in China have entered the cool autumn. When the cold air southward meets the declining warm and wet air, precipitation is the result. The temperature also drops frequently.