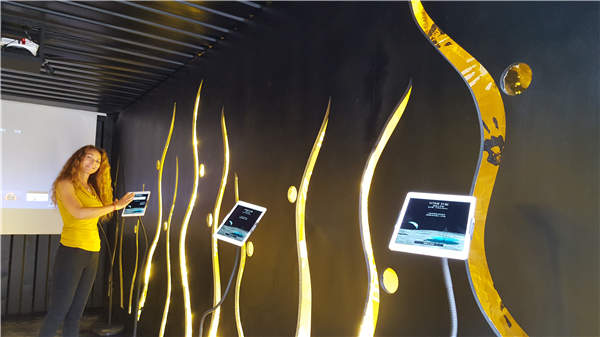 An art exhibition in containers featuring Chinese and French artists. [Photo provided to China Daily]
An exhibition of art in containers featuring Chinese and French artists opened to the public in Beijing on September 17, and will be followed by a tour in other cities in China and France.
Entitled Elsewhere Is Here, the works on display are made in containers, all of which can be shipped easily to any city hosting the show.
Five well-known artists from France and another five from China have completed their works in separate containers, including Anilore Banon, Chantal Saccomanno & Olivier Dayot, Qiu Zhijie, Yan Lei and Guan Huaibin.
The curator Fan Di'an says the show is like a "moveable museum" and it can eradicate the distance of the world because all can be easily moved to places far away from one another.
"It's an always ongoing show. More artists will be invited to make works in containers for the show later. They will also tour the world," says Fan, president of Central Academy of Fine Arts.
The container made by Anilore Banon attracted lots of visitors. Her work, Send Me To the Moon, is a project in which she worked with the European Space Agency to collect one million handprints from people across the world. These handprints will be printed on a sculpture and sent to the moon.
Banon's work invites Chinese visitors walk in and touch the container's wall to leave their handprints. Once they touch it, the container will shine. The more people touch it, the lighter it is.
Chinese artist Guan Huanbin's container is transformed into a small garden. It uses mirrors, stones and pillars to expand the space visually --- scenes change with every step.
After Beijing, the show will start its tour in other cities in China and later move to cities in France. It is part of an art exchange project initiated by France's former prime minister Jean-Pierre Raffarin.
The Beijing show is held in No. One Park Art Institut in Shunyi District.