The truth about coconuts: Superfood or fatty fad?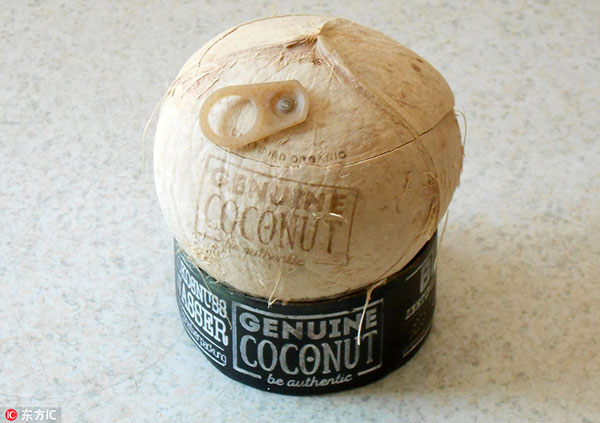 The name coconut is derived from the Portuguese and Spanish word "coco" meaning "grinning face".[Photo/IC]
When early European explorers tossed a few coconuts on-board for the journey back from the tropics, they could scarcely have imagined what they were starting. Today we are obsessed with all things coconut. It's the food fad that just won't quit.
Just look at the figures. Over the past three years in Britain, our annual spending on coconut water has surged from &3.9 million to almost &33 million, according to consumer research group Kantar Worldpanel. Our appetite for coconut oil is equally unquenchable; sales rose from around &1 million to &16.4 million over the same period.
Even more recent figures report we now spend more than &100 million a year on coconut products: &64 million on coconut water alone, a 64 per cent increase in just one year.
It's not that coconut love is new, of course. Whether we're munching the delicious flesh straight from the shell on holiday or splashing the sweet, creamy milk into a Thai green curry at home, coconut has long been a favourite ingredient - especially in south-east Asia, India, Africa and South America. And the oil has been used as a substitute for butter in vegan cooking for years.
But the real boom stems from the coconut's rise from speciality ingredient to poster child of the free-from and "wellness" movements. "Coconut is gluten free and lactose free, so it's boomed on the back of the free-from trend," says Wayne Edwards, director of food trend agency thefoodpeople.
"Celebrity endorsements from people like Gwyneth Paltrow have raised awareness about coconut. But increasingly it's wellness bloggers - people like Deliciously Ella and the Hemsley sisters - who have had a huge impact, especially in the under-35 age group." The Hemsleys praise coconut oil as having "incredible" health properties and use it liberally in sweet and savoury recipes, as well as a beauty product.
But it's not just coconut oil and water we're mad for; you name it, there's a coconut version of it out there. Coconut milk lattes are on the menu at Starbucks, while coconut flour - once tricky to find outside health food shops - is widely available in supermarkets. The stuff is everywhere: coconut yogurt, coconut cream, coconut chips and coconut chunks, as well as coconut-flavoured coffee, tea, vodka and more. Marks & Spencer has even launched "the high street's first drinking coconut" - a whole coconut with a ring-pull, so you can stick your straw in and pretend you're on the beach.
Coconut palm sugar, made from the sap of the tree, is poised to be the next big coconut thing, according to Stephanie Mattucci, from consumer research group Mintel. Although Diabetes UK and the American Diabetes Association stress it's just another form of sugar, many of us don't believe them. "In the US, 20 per cent of consumers think coconut sugar is good for health," Mattucci says.