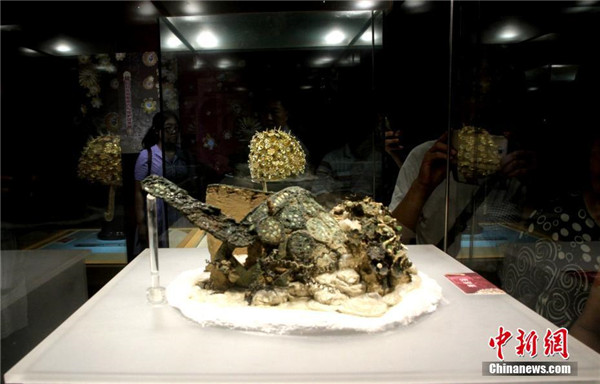 The original Empress Xiao's phoenix crown is on display at the Yangzhou Museum in Yangzhou, East China's Jiangsu province, Sept 18. [Photo/Chinanews.com]
An ancient phoenix crown of Empress Xiao from the reign of Emperor Yang of the Sui Dynasty (AD 581-618) and its replica were unveiled in Yangzhou of East China's Jiangsu province on Sunday.
Shu Jiaping, director of the Archaeological Institute of Yangzhou, said this crown is of the highest rank from the period of Sui and Tang Dynasties that has been discovered so far.
The exhibit is attracting a large number of tourists to the Yangzhou Museum as it is the first time it has ever been displayed in public.
The original Empress Xiao's phoenix crown has been eroded after being buried for nearly 1,000 years. After two years of repairs, the crown is still covered by a layer of clay, but its headwear and ornaments are visible under careful observation, said Professor Yang Junchang, who is in charge of the archaeological project.
Unlike the original crown, its replica glitters under the light of the showcase. Professor Yang said the replica has the original appearance of the ancient crown, including 12 water-drop shaped headwear, as well as 13 follower plants and 166 petal shaped ornaments.
The crown reveals the highly sophisticated technology of making gilded bronze art crafts in Chinese Sui and Tang Dynasties.
The exhibition will last until Oct 18.