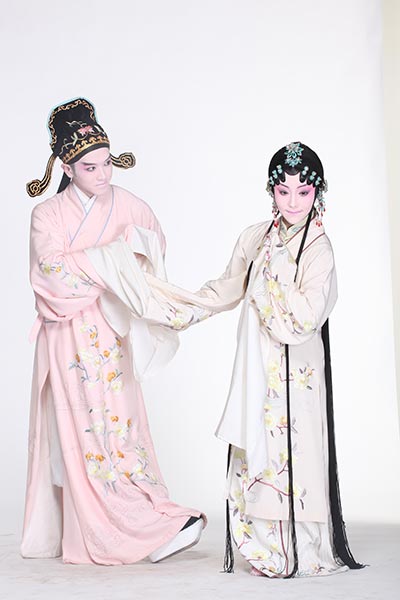 The Peony Pavilion, one of Tang Xianzu's best-known plays, will be staged by Suzhou Kunqu Opera Theater in Britain. [Photo provided to China Daily]
This year is the 400th anniversary of the deaths of literary giants William Shakespeare and ancient China's playwright Tang Xianzu. An exhibition to mark their contributions to world literature is being held across 26 venues of the Chinese Cultural Center in different countries through December.
Dialogue Across Time and Space: Homage to Tang Xianzu and William Shakespeare, which started on Sept 1 in Singapore, compares the lives and works of the two dramatists whose influences on society remain. The exhibition will be accompanied by seminars, forums, movie screenings, live performances and workshops.
The show is expected to end in Mauritius.
"The history and culture of China and the United Kingdom is represented in their works," says Zheng Hao, assistant director of the Bureau for External Cultural Relations at China's Ministry of Culture. "The exhibition will allow visitors worldwide to understand the similarities and differences between theatrical cultures in the East and West."
Zheng's bureau is a co-organizer of the exhibition, which is the first single show being organized at the same time in different countries by the Chinese Cultural Center, a government institution established in the 1980s. The cultural center is a major location abroad to showcase the diversity of Chinese history and culture.
During two tour stops of the exhibition, in Madrid and Mexico City, Spanish writer Miguel de Cervantes, who also died in 1616, will be commemorated along with Tang and Shakespeare.
Cui Qiao, a curator of the show, says virtual reality is being used to enable visitors to "travel back" to the Ming Dynasty (1368-1644) period, when Tang lived, to experience Chinese culture.
Lu Jiande, director of the Institute of Literature at the Chinese Academy of Social Sciences, who is an adviser for the show, says that, compared to Shakespeare, Tang is less well-known outside of China.