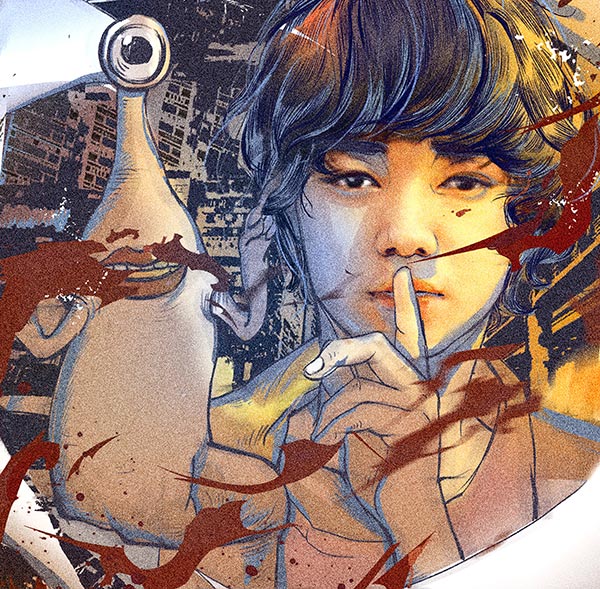 Parasyte, adapted from the Japanese manga series of the same title, is one of the few foreign horror films screened on the Chinese mainland. Critics believe the big fan base for the comic books is one of the major reasons for its box-office success. [Photo provided to China Daily]
Many Chinese movie buffs' first reaction upon hearing that the Japanese movie Parasyte will be screened across the Chinese mainland was: "Really?"
Written and illustrated by Hitoshi Iwaaki, the Parasyte manga series of sci-fi horror was originally published in magazines from 1988 to 1995, and more recently adapted into two live-action films.
The series tells the story of a teenage boy's fight against wormlike creatures that want to capture the human brain-and the Japanese films contain a number of bloody scenes. But the creator's imagination and the series' introspection on such topics as environmental protection have helped the films to win critical acclaim.
The film premiered on the Chinese mainland on Sept 2. It combines the two Parasyte films released in Japan in 2014 and 2015.
Foreign horror films are rarely screened in China as the top regulator for the sector is usually uncomfortable with content that shows excessive violence.
Edko Films Ltd, a Hong Kong-based company that is helping with the distribution of Parasyte on the Chinese mainland, says it negotiated both with the Chinese regulator and Japanese producers to make the film suitable for general screening here.
The two Japanese films, totaling 226 minutes, were cut to one feature of 125 minutes for Chinese theaters.
While some Chinese moviegoers complain the Chinese version leaves out many elements from the Japanese films, Parasyte has so far grossed 36 million yuan ($5.37 million)-beating spy thriller Jason Bourne to take the third slot in the Chinese box office over the weekend, following Star Trek Beyond and Ice Age: Collision Course.
"The core storyline remains, as well as classic scenes like those showing human heads changing into flowerlike creatures," says Zhang Han, general manager of Edko (Beijing) Films Ltd, about the Chinese version.