Veteran chef strives to preserve delicate flavors of Hangzhou cuisine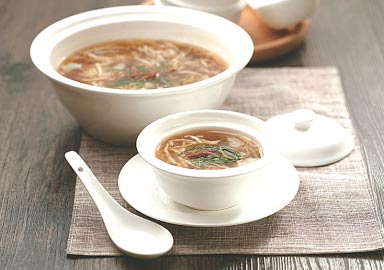 Songsao Sour Fish Soup, a light version of Beijing's vinegar-pepper soup. [Photo provided to China Daily]
Mao Huiqun joined the Shangri-La hotel in West Lake seven years ago after cooking Hangzhou cuisine for more than 20 years.
He went there not for its Western elements but to better understand authentic local cuisine.
Light music wafted in my ears the moment we stepped into Shang Palace, the hotel's Chinese restaurant which has been in operation for more than 30 years.
Lantern-shaped lights hung from the ceiling, hollow-carved wooden partitions stood across the dining hall, offering a strong Chinese touch. The restaurant has a tranquil ambience.
"I knew several prestigious Hangzhou cooks at the restaurant and so I was drawn to the place," says Mao.
Mao, who has around 30 years of experience, has also worked at star hotels in Xi'an, the capital of Shaanxi province, and Wuhu in Anhui province.
Expounding on his cooking philosophy, he says that he tries to offer only authentic traditional cuisine of the region to visitors as he feels that otherwise their visit to the area would not be perfect.
"Travel is supposed to be about experiencing everything in the place you visit," he says.
He says that Hangzhou's cuisine is very delicate. "We value food quality and original flavor, and control of the flame is the key," he says.
Mao, who is now Shang Palace's head chef, places a special emphasis on the Hangzhou elements in his food. He says chefs must take the trouble to ensure a better result using traditional methods, which should draw from the past. He adds that while certain improvements can be made, this should not detract from the traditional essence.
Hangzhou cuisine mostly uses ingredients sourced from the river and the lake and seasonal vegetables.
Yellow wine, soybean sauce and salt are used for seasoning. "I think people will eventually quit using any artificial seasoning but use ones spawned from fresh food," he says.
For our dinner, we opted for Stir-fried Crystal Shrimps with Longjing Tea Leaves, which is one of the most distinctive and popular dishes here.
The dish looked simple-shelled shrimp with a few tea leaves on top. But the shrimps tasted smooth and springy and had a delightful tea flavor.
The key to preparing this dish, says Mao, is to continuously wash the blood off shelled shrimp with water, and marinate them with egg white, salt and starch powder for two hours to ensure ideal meat texture.