The three pagodas-a scene from dreams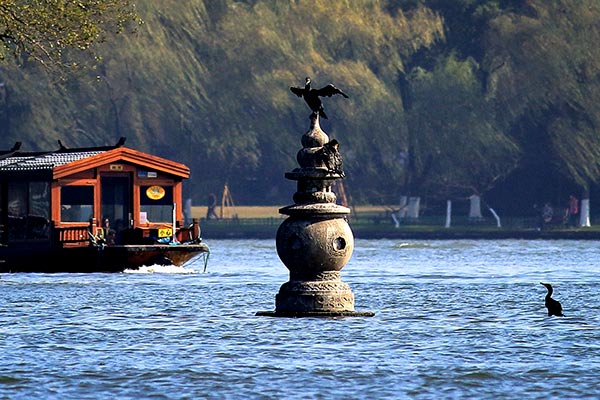 The three pagodas draw not only a constant flow of tourists but also flocks of birds on West Lake. [Photo by Xu Ruikang/China Daily]
Of all the man-made structures in and around Hangzhou's West Lake, the three pagodas that loom over the water are among the smallest I have seen.
Yet they are so conspicuous, thanks to their location.
Rising just 2 meters above the surface of the water, they are like a trio of diminutive doyennes frozen in time doing a Zen version of the Matisse dance.
They form an equilateral triangle, located 62 meters from each other.
One need not read too much into the numeral 62 because the ancient Chinese did not use the metric system.
But 33 is a nifty number that interpreters with a bent for clairvoyance have come up with-standing for the total of moons that can be seen, from a panoramic angle I suppose-at this particular site.
Each pagoda has five round holes, and when lit from within, it would appear that there are a total of 15 moons visible from afar. Then, as the moons are mirrored in the lake, the sum adds up to 30.
Of course, one should not forget the real moon and its reflection. As for the 33rd moon, it can only be seen by those with a fertile imagination, as it exists only in the mind.
This view of beauty and tranquility has a poetically confusing name: Three Pools Mirroring the Moon.