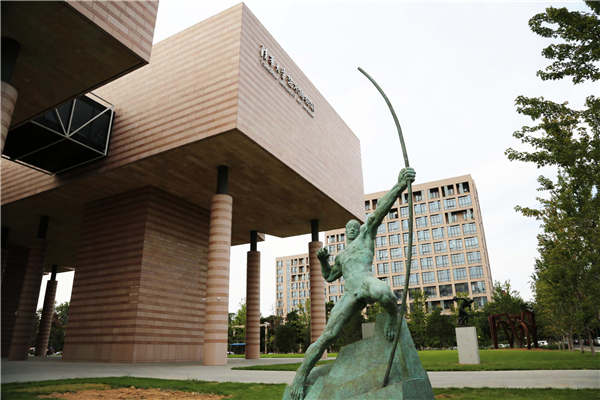 The Tsinghua University Art Museum on the campus of Tsinghua in Beijing will open on Sept 11 with 11 shows. Photos provided to China Daily
The Tsinghua University Art Museum is staging a show of pages from the Renaissance Man's Codex Atlanticus to mark its official opening. Lin Qi reports.
Leonardo da Vinci (1452-1519) is revered not only for such works as the Mona Lisa and The Last Supper, but the "Renaissance Man" is also famed for his work in engineering, optics, architecture, geometry and astronomy.
The scope and depth of Da Vinci's interests is celebrated through the Italian-language Codex Atlanticus (Atlantic Codex).
It is a collection of 1,119 pages, in 12 volumes, which features Da Vinci's drawings and notes of his work in various scientific disciplines.
The Codex Atlanticus is now at the Biblioteca Ambrosiana, a library in Milan.
Sixty original pages will soon be displayed at the new Tsinghua University Art Museum from Sept 11 through March 19, 2017.
This display will make the largest exhibition of the Codex Atlanticus outside Italy.
However, this is not the first time that pages from the encyclopedia have been sent abroad.
An earlier exhibition in Singapore saw 26 pages being put on show; and an event in Japan received 20 pages, says Yang Dongjiang, deputy director of the TAM, as the museum calls itself.