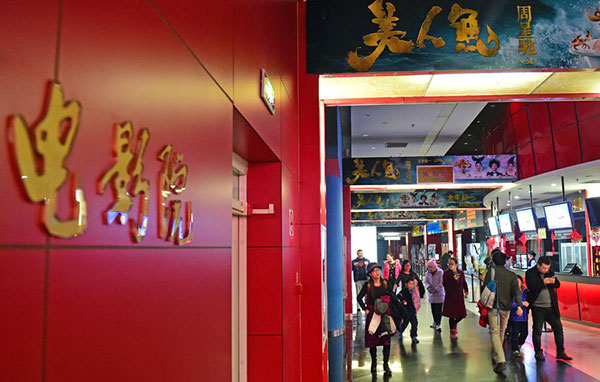 [Photo/Xinhua]
China's top legislature on Monday reviewed a draft film law with a key focus on making sure that people working in film industry maintain professional ethics.
The bill was submitted for a second reading to the bimonthly session of the National People's Congress (NPC) Standing Committee that runs from Monday to Saturday.
According to the draft, people working in the film industry should strive for "excellence in both professional skills and moral integrity," and build a positive public image.
The past few years have seen a string of high-profile arrests of film celebrities involved in drug abuse and prostitution.
In 2014, the State Administration of Press, Publication, Radio, Film and Television (SAPPRFT) banned screenings involving anybody who had engaged in criminal activity.
According to a SAPPRFT statement released Friday, the media watchdog is establishing a professional ethics committee, aiming to guide organizations and people in the media to practice core socialist values.
Works featuring "tainted artists" will be ineligible for awards, the document added.
The revisions add clarity regarding domestic movie screenings, stating that cinemas should properly arrange screenings and time slots of films made by domestic organizations, and homegrown films should take up at least two thirds of total movie run time.
The draft also stressed that film distribution companies and cinemas should not fabricate movie ticket sales or engage in improper methods.
Those involved in illegal activity will be liable for administrative punishments, including fines up to 500,000 yuan ($75,000), business suspensions, and outright bans, it said.
In March, China's film market watchdog suspended the license of a distributor that committed fraud by inflating box office figures for domestic movie "Ip Man 3."
The new draft cancels the need for government approvals on the shooting of films, instead adding a stipulation that film authorities should issue certification or permits for prospective films at the script or abstract stage.
It is a move in line with the Communist Party of China's efforts to streamline administration and delegating power to lower levels, as well as an effective measure to safeguard the country's cultural security, said the NPC Law Committee in a report to lawmakers.
The revised version states that films shall not contain content inciting terrorism and extremism and that all films shall be reviewed by at least three experts designated by the government.
If films contain material that "might cause psychological or physical discomfort" to viewers including minors, warnings should be given to viewers, the draft said.
The new draft specifies that citizens, corporations and other organizations can provide film processing and post-production services for foreign movies, with an exception for those with the content that could "harm national dignity and interest of China, cause social instability, or hurt the national feeling."
Under the revised draft, subsidies should be given to non-profit film screenings in rural areas.
Chinese education and film authorities should recommend movies that are beneficial for the development of minors and initiate plans for students in compulsory education to watch such films for free.
The draft was first read in a bimonthly session in October 2015.