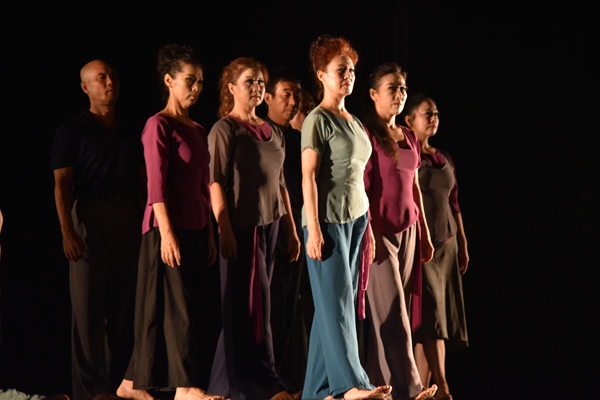 Modern Dama perform the dance "Dance with Your Heart" at Beijing 9 Contemporary Dance Theater on August 24. [Photo by Zhang Xingjian/chinadaily.com.cn]
In a bustling and stressful Chinese society, there lives a special group of middle-aged and elderly people who are leading a smart lives.
They calmly go through the vicissitudes of the surrounding world, always wearing a smile on their faces.
They are known as "Chinese Dama", who enjoy their current tranquil and happy life after years of struggle and hard work. Now they can tell wonderful life stories to the younger generation through "new dance".
"Dance with Your Heart", performed by Modern Dama, serves as a prelude to the 2016 Beijing New Dance Festival.
"I am quite enjoying my current state of life and I am feeling myself again," said Zhang Zhifang, one of the performers in the dance troupe.
"Dancing is not the privilege of young people and we have the same right to enjoy it. By taking part in the dance troupe, I think it is a good platform not for myself, but for the entire Chaoyang district in piloting and promoting cultural development," said Gao Meiying, another dancer from the Modern Dama.
As an important field for the communications among arts and cultures from home and abroad, the Beijing New Dance Festival, initiated by Beijing Chaoyang Culture Center and Beijing 9 Contemporary Dance Theater and Y Art Studio, kicked off in Beijing on August 24.
By taking the perspective of "dance" and the theme around "innovation", it builds up a platform for cultural exchanges. By cultivating a multi-dimensional dancing environment featuring lecturing, practicing, performing, commenting, watching and discussing, the 2nd Beijing New Dance Festival serves as a Chinese hub in the global dancing network by contributing to cross-cultural communications and incorporating new thoughts and forms into Chinese contemporary dance.