Herb master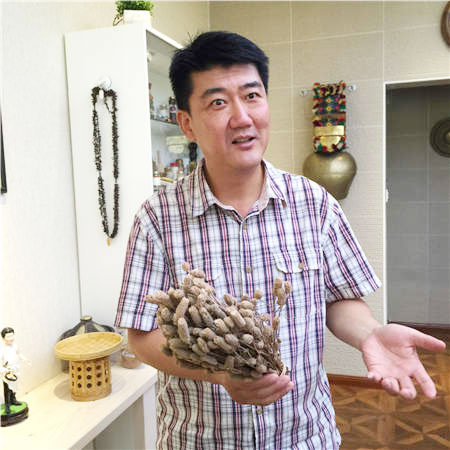 Xu Long explains the use of some of the dried herbs he has collected. Mike Peters/China Daily
A prominent Beijing chef completes the first chapter of an encyclopedic labor of love: a professional's guide to the herbs of Yunnan province, Mike Peters and Jiang Wanjuan report.
First, the bad news: This story contains no gossip about what government celebrities eat. After a three-hour interview and a cooking studio tour with Xu Long, the Western chef at the Great Hall of the People, we still don't know any juicy tidbits about the international leaders he has served. What does President Xi like to eat? Is President Putin picky about his food? Does Chancellor Merkel really like spicy Sichuan dishes?
We're not going to find out any of that from Xu, whose primary responsibility is state banquets and other official functions at the hall. He just smiles and shakes his head at such questions.
What does get him talking, however, is herbs-the fragrant and flavorful plants that add zip to all manners of foods. His new book Fragrance about those plants is hot off the press, and he's presenting it this week at the Beijing International Book Fair.
"When I first began working at the Great Hall of the People 32 years ago, 'Western food' meant Russian cuisine," he says. That quickly changed with China's reform and opening up, and Xu suddenly had a mandate to explore the breadth of European cooking.
"I remember going to the Peninsula Hotel in Beijing in 1990 and being thrilled to see fresh herbs like rosemary, thyme and basil," he says. "Before that, I had only seen and used the dried forms that were quite different in flavor and smell." The hotel manager at the time had brought herb seeds back from Europe in a suitcase, which the kitchen staff used to plant in their own garden.