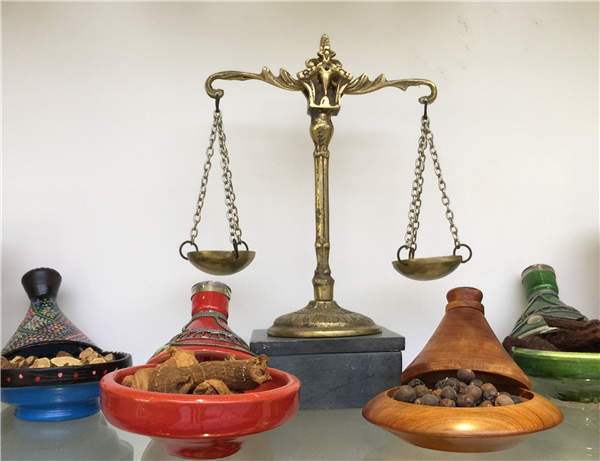 Xu Long explains the use of some of the dried herbs he has collected. Mike Peters/China Daily
"I began to realize that herbs play an important role in cooking," he says. "Herbs do more than just make food taste better-they help people connect with food. Some herbs have stories that go back to Greek and Roman mythology, and other have stories that come from religions and cultural traditions."
A good chef, he says, needs to embrace the whole picture of food culture: "It's the emotion in cooking."
The idea of doing a book on herbs began to take shape-a book for chefs, he says, that would allow him to share his knowledge and enthusiasm with his Chinese peers.
His pursuit of the stories behind those plants has taken him to 13 countries-"I like to find the origin place of the herbs"-but his travels inspired a new enthusiasm for plants closer to home.
"The herbs of the West and Western cuisines are well-documented in many languages," he says. "But many people, especially Western readers and food lovers, don't have much of an idea about Chinese herbs."
Thanks to China's vast temperate-zone area, more plants are indigenous here than in any other country in the world, say Flora of China authors Wu Zhengyi and Peter Raven. Yunnan, China's southernmost province, is the richest of all in vegetative variety, and the region's geographic advantage quickly captured Xu's imagination. He was determined that his book needed to reflect his own first-hand experiences-rather than compiling the work of others.
"I didn't expect Yunnan herbs to have so many roles, so many smells," he says.
They also have a legacy of stories as rich as Western herbs do.