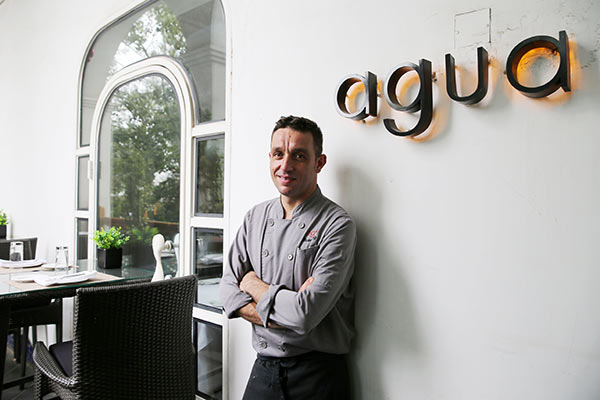 Agua's newly appointed head chef Victor Ruiz. Photos By Wang Zhuangfei / China Daily
A new chef arrives, and something new is in the air
"If you cook with the heart, people feel it," I told Victor Ruiz after tasting his dishes at Agua, the long-established Spanish restaurant in Beijing.
But for Ruiz my suggested recipe for success lacked at least a couple of ingredients, and he replied: "To be a good chef you need hands, a brain and passion."
In Beijing passion is the last of these things that he says is missing in young Chinese chefs. There needs to be more to a chef's vocation than a way of making ends meet, he says.
Ruiz from Catalonia, northeastern Spain, is Agua's newly appointed head chef, succeeding Jordi Valles, who left after working there for eight years, since the restaurant's very first days. So going to Agua recently, we had a mission: to see what bright new ideas the new chef has brought to the restaurant. Eventually we needed no convincing that something new is indeed the air - and it was the taste that did the talking.
Agua, originally opened in 2008 at Ch'ienmen 23 near Tiananmen Square, moved to its current location in 2010 at Nali Patio in Sanlitun, a mecca for lovers of all things Spanish. It is one of more than 20 dining outlets that Aqua Restaurant Group has in Hong Kong, Beijing and London.
The company's founder, David Yeo, a former lawyer and designer, took his inspiration from the warm browns and textures of natural Spanish woods to create a chic interior for Agua. He has also introduced exotic Moorish touches throughout, with colored glass and brass lanterns sourced from the Suks of Morocco and windows and doors in the traditional Moorish shape.
We ordered a number of tapas that included fired homemade chorizo, tortilla, spicy potatoes and cold tomato soup salmorejo, but the best of the starters was the squid noodles with ink and hollandaise sauce (160 yuan, $24).