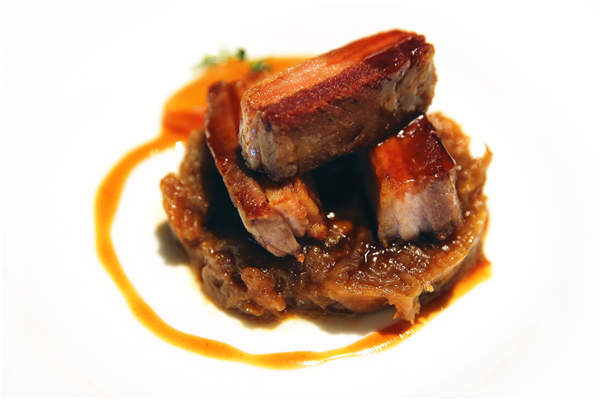 Candied and grilled pork belly on top of onion and squid paste.
As main dishes we chose the traditional seafood paella that is more familiar to Chinese.
It comes juicy, moist and creamy; in contrast to other versions of paella I have tasted in Beijing that are dry and crisp.
The key ingredient to great paella is the rice. The rice we had was bomba, a short-grain variety Spaniards like in their paella.
Bomba rice tends to be non-sticky and can absorb water well while retaining its shape and not becoming mushy. Ruiz says that in his version he brings a Chinese influence to bear, making the rice softer to suit Chinese palates instead of the crunchy and seemingly half-cooked texture that Spanish people enjoy.
I had thought saffron was a must in paella, but Ruiz says this is not so, and he does not use it.
"Paella comes from Valencia. People in that region tend to put it in paella, but various kinds of paellas have evolved throughout the country, and in Barcelona not that many people put saffron in paellas.
"Another thing is that in China seafood paella is so well known, but in Spain we eat a lot of paellas that do not have seafood in them."
Another thing not to miss in Agua is the ham. It is a 50-month cured Iberico variety from Monsalud, La Dehesa de Extremadura, which was named best Iberico ham in the world in 2011, according to the menu.
Tomato bread, with no garlic on it, is served with the ham, so you will not lose the flavor of the meat.
In Spain, good hams are expensive, Ruiz says.