Interview: Head chef at Great Hall reveals his passion for herbs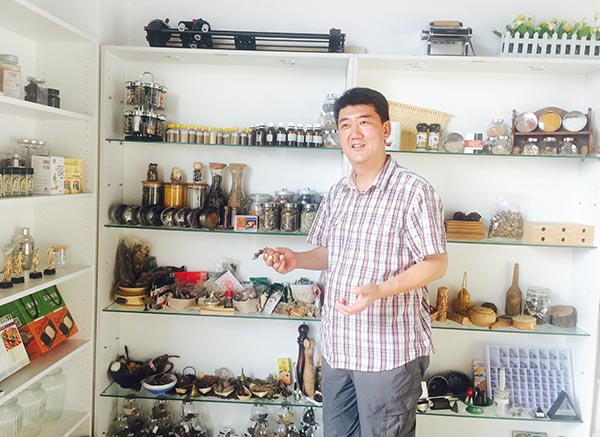 Xu Long introduces the herbs he collected at his personal studio in Beijing's Chaoyang district, Aug 15, 2016. [Photo by Jiang Wanjuan/chinadaily.com.cn]
Xu Long is known by many as the Western cuisine head chef at the Great Hall of the People, where he started his career 32 years ago. Few know that his passion for herbs started shortly after that.
"At that time, we only had dry herbs to cook in Western dishes," he recalled, during our recent visit at his personal studio in Beijing, which houses samples of hundreds of herbs from all over the world.
"In 1990, I saw fresh rosemary and thyme for the first time at the Peninsula Beijing hotel. It was the German chef of the hotel who brought the seeds in his luggage from his country to China," he said. "I was so thrilled, because I never knew what fresh rosemary and thyme would look like and how they would taste and smell different from the dried ones."
Over the past three decades, Xu has traveled to many countries to learn herbs from all over the world. His first book about herbs, Fragrance, which focuses on herbs grown in China's Yunnan, will soon be revealed to the public.
To gain first-hand information for the book, Xu travelled 30,000 kilometers in Yunnan in the past three years, visited 30 local markets, and studied cooking methods from 17 minority communities and took 100 photographs. He personally tried 70 herbs and selected 47 to include in the book.
You can expect him talking more about his new book on Aug 24 during the Beijing International Book Fair.