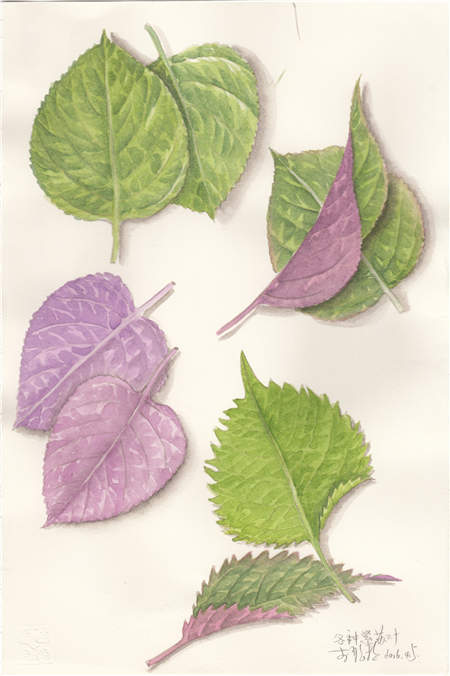 Images of herbs in Xu Long's newly published book Fragrance were painted by his friend Li Chongying. Mike Peters/China Daily
"One of the minority communities in Yunnan believes that tea is literally their ancestor," he tells a book fair audience. Another uses leaves as serving bowls and plates, and they eat with their hands-"a very eco-friendly approach", he says.
He abandoned the immense scope of trying to write a Chinese compendium of the world's herbs and instead focused on Yunnan for what he sees as the first of several volumes in a series. He frowns as he utters the title in English, and a lively exchange ensues with the translator.
"Fragrance", it seems, is far too simple a word for the spirit of the book. "In Chinese, the name is more poetic," he says with a sigh.
When he hasn't been overseeing banquets for state leaders, he's been going back and forth to Yunnan-a photo-shooting trip in May was his seventh trip to the province for research on his book and the columns he writes for Global Gourmet magazine. In all, he's covered thousands of kilometers, visited with cooks from 17 of Yunnan's many ethnic minorities to gather data on 70 kinds of herbs. He narrowed down his plant list to 47 for the book, including knotweed, citronella, basil, choucai (Acacia pennata) and shuixiangcai (Elsholtzia kachinensis 'Prain').
"Many Chinese think herbs like pepper and lemongrass are indigenous to China, because they have been in our food culture for centuries," he says. In fact, they came here in the era of the Silk Road. Rosemary, a herb that has become popular as Western cuisine has become well-known in the past two decades, was recorded in Yunnan a couple of hundred years ago, Xu says.
Gathering material for his book, he spent many hours in local markets-at least 30, he says-but that was as much for convenience as necessity. "In Yunnan, herbs are growing everywhere-they are in nature for the taking," he says.
In the process of his research, he found considerable overlap between the plants of traditional medicine and traditional cooking.
"Some of the plants smell bad," he says with a grin, "but they taste good."
Related: Interview: Head chef at Great Hall reveals his passion for herbs