Cheese and pizza don't have to burden the stomach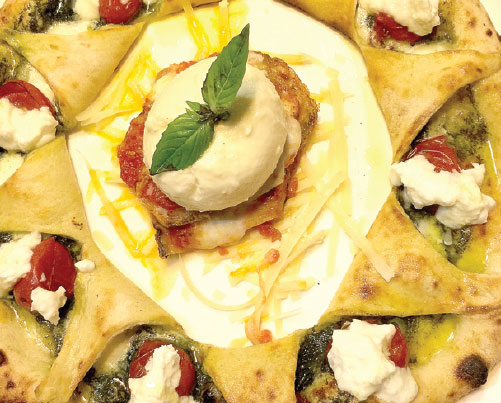 The kitchen team at La Pizza in Shangdu SOHO will substitute lactose-free cheese in any menu item. Mike Peters / China Daily
When I heard that Italian food importer Gennaro Miele was marketing a lactose-free mozzarella, I thought he'd gone mad. Sold his soul to the devil. Or maybe been kidnapped by space aliens.
Miele, after all, is the guy who has made a name for himself in China over the past 10 years by bringing in high-end food products from Italy for some of the country's top European restaurants. The soft bufala and other cheeses that he has stashed in his flagship La Pizza restaurant at Shangdu SOHO entice Italian chefs from other restaurants to come over for lunch on Sunday afternoons. And now he's selling ... fake cheese?
"No no no," he says, "it's very good, very tasty."
So it's just like the cheese with lactose? I ask.
"Not quite," he says. "The texture is different, a little firmer. But the taste is good."
So good, he says, that he's offering to substitute Sassano brand Delattosa in almost any dish on the menu, even though it has meant virtually creating a separate kitchen area for it.
I'd planned to order a pizza that was half lactose-free and half, well, the real stuff, but that's not the way it works.
"You have to keep things totally separate, you can't really be using the same tools, the same spoons for that and the regular dairy, or it really won't be lactose-free," he says. "That's why I only offer it at this La Pizza, where I can personally control it, and not in my other two restaurants."
Similar thinking drives kosher and halal kitchens - you can't mix tools and foods used for those foods with tools and foods used for non-kosher and non-halal foods.