Pizza Hut's new offerings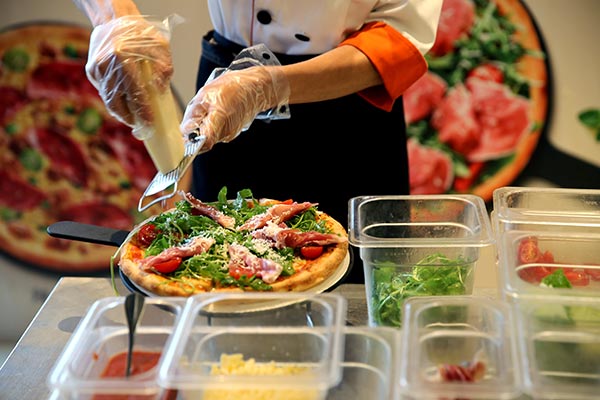 Fast food chain Pizza Hut is offering new choices. Jiang Dong / For chinadaily.com.cn
Pizza Hut, a popular Western chain, has introduced 20 new dishes in China in June. The most common is "Artisan Pizza", which comes in three flavors — Parma ham, smoked salmon and spicy beef. The latest pizzas use handmade crusts topped with a selection of meat, vegetables and fruits, the company said.
All ingredients for the new pizzas are imported to ensure quality, a Pizza Hut statement said.
The Parma ham pizza is topped with arugula, cheese chops and big slices of parma ham, which has an appealing aroma of smoked ham, and tastes salty and flavorful.
The crust of smoked salmon is resilient yet soft, and its colorful toppings include lettuce, smoked salmon, cheese, cherry tomatoes and eggs.
The spicy beef pizza is topped with pastrami imported from Italy to match with pickled Mexican pepper, freshly fried beef chops and Mozzarella cheese from south Italy, which taste exotically delicious.
Since 1990, Pizza Hut has opened 1,300 restaurants in 370 cities across China.
Related:
Red Bull-for-phones helps students focus