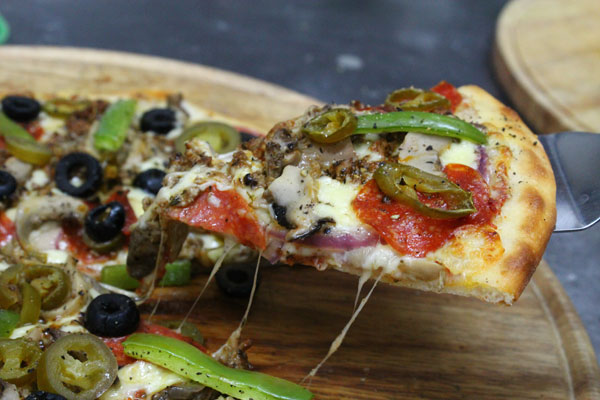 The Hell's Kitchen pizza. Provided to China Daily
Tucked away in a street in Huilongguan, one of Beijing's biggest suburban residential neighborhoods, Yummy Box appears to be a one-off in more than one ways.
The Western-style decor and food easily sets the pizza shop apart from the neighboring Chinese diners, which are more traditional and conventional.
Ran Zhenpeng and his wife Li Ning opened the shop in 2009 out of their love for Western food. They wanted to bring authentic New York-style pizzas to the neighborhood, they say.
"We found there were more than 20 pizza shops in the neighborhood, including franchised ones, but few of them offered really good pizzas," says Ran.
They are more like Pizza Hut, providing a fast-food service, he says.
"We didn't expect people in Huilongguan to take to our food so well, because, to be frank, our products were priced higher than those at other similar shops," says Ran.
A typical pizza at that time was sold for less than 20 yuan ($3.30), but the cheapest one (16 inches) at Yummy Box fetched a price approaching 100 yuan. At Yummy Box, ingredients are added to the pizza based on orders and arranged in a way that ensures uniform density to promise a consistent taste, says Ran.