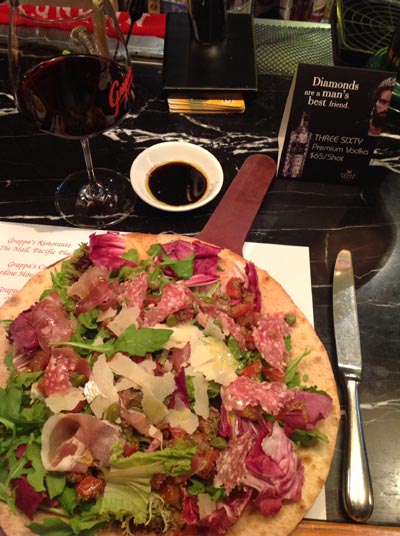 Photo provided to China Daily
OK, it probably helped that our pizza came with a side of hot cars and hotter women: The bar TV was showing the Fellini classic La Dolce Vita.
But after getting our heads around the semi-deconstructed pizza toti-really a salad on a monster cracker, it was a lunchtime delight at Hong Kong's Grappa's Cellar, a popular live-music nightspot.
The pizza is a gorgeous and tasty platter of reds and greens: Italian salami, parma ham, multicolored leaf lettuce, all topped with fresh shavings of Parmesan. There's balsamic dressing-for best results, add a glass of the very drinkable house red. The bar has quite an archive of classic Italian films, so Fellini moments recur.
If you go
Grappa's Cellar, 10:30 am-11 pm; Jardine House, 1 Connaught Place, Central district, Hong Kong. 852-2521-2322.
Related:
For French baker, China is all about love and loaves