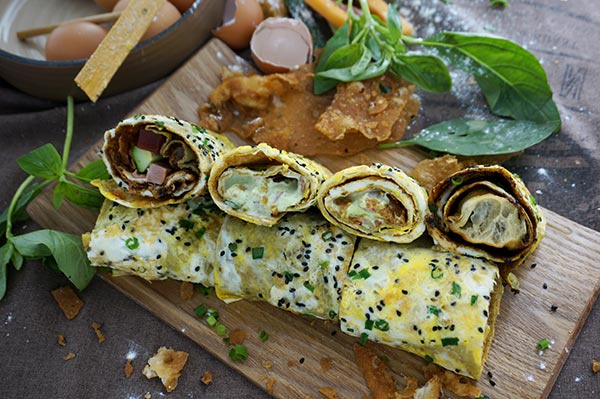 Beijing-style Peking duck jianbing with cucumber, sliced Peking duck, pickles and the sweet paste of flour. [Photo provided to China Daily]
China's time-honored baozi (steamed buns with fillings) brand Goubuli has opened a new modern fast-food outlet in Beijing, a brand that offers something slightly different to Goubuli's traditional chain restaurants.
This chic outlet in the Sanlitun area of Beijing features innovative Chinese fast food based on traditional Tianjin snacks, with an open kitchen.
Gaobuli's baozi are well known for their savory taste and the exquisite ingredients that go into their making, such as semi-leavened dough, and the way they are turned out, with exactly 18 creases on each baozi.
The new fast-food branch carries on the celebrated baozi-making techniques, but there are some variations in the fillings and in some traditional Chinese snacks.
The green baozi we tried stand out. They are stuffed with bacon and pesto, an innovative Western take on the usual baozi stuffing. The basil in the pesto is what makes the skin green.
Doufunao, the traditional Chinese street food for breakfast, is particularly good and interesting at this new outlet.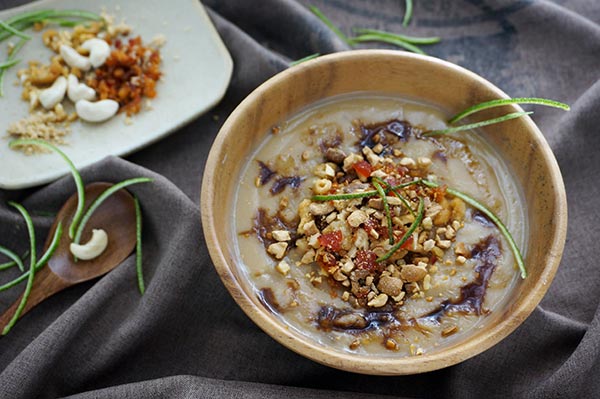 At Goubuli doufunao is topped with crumbs of fried dough twist and meat floss. [Photo provided to China Daily]
Doufunao literally means tofu brains and is made of soft silken tofu with sauces and garnishes usually served sweet in southern China, and salty in northern China.
At Goubuli it is topped with crumbs of mahua (fried dough twist, Tianjin's most famous snack), meat floss, and furu (a cheese-like spreadable Chinese fermented bean curd). This combination makes each spoonful of doufunao tasty and complex thanks to the savory furu and soybean paste, crispy mahua, and silken tofu.
Also, don't miss the creative jianbing (a kind of Chinese crepe). We recommend the Beijing-style Peking duck jianbing (18 yuan) cooked with cucumber, sliced Peking duck, pickles and the sweet paste of flour. Three other varieties of jianbing are available: traditional Tianjin-style (15 yuan); bacon (18 yuan); and seafood (20 yuan).
In a word, this is a great new place to enjoy a quick workday lunch of delicate Chinese-style fast food inexpensively. There are several sets available, too, such as four different flavors of baozi with porridge (19.9 yuan); Peking duck jianbing with doufunao (24.9 yuan) and Chinese chicken burger with corn flour porridge (29.9 yuan).
If you go
10 am-10 pm
B1-5, Topwin Center, 1 Nan Sanlitun Lu, Chaoyang District; 185-1560-7074.