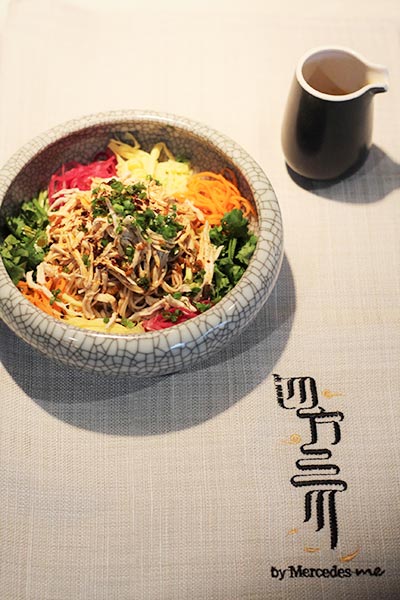 [Photo by Dong Fangyu/China Daily]
It is not uncommon to hear that a fashion retailer has opened a cafe or a restaurant to add to its store, and here you can think of Burberry, Gucci, Armani, Ralph Lauren, to name only a few. Finding a place to sit down and enjoy food at a florist's or at a bookstore is not exactly new either. Crossover eateries with different themes emerge one after another. But hearing that the outfit that is serving mouth-numbing spicy Sichuan food is none other than the German car maker Mercedes-Benz, you could be excused for doing a double take.
Si Fang San Chuan is on the second floor of the newly opened Mercedes Me in Beijing, a Mercedes-Benz display center in which you can see car and gallery shows and experience the taste delights of four signature food and beverage outlets including SFSC.
Since opening, the restaurant, with its backdrop of swish cars replete with fine German engineering, seems to have attracted a lot of people who are no doubt expecting it to be a little different to the run-of-the-mill restaurant.
With that kind of inquisitiveness and expectation we went there at lunchtime. But before dealing with that, I should say something about the restaurant's name, consisting of four simple Chinese characters, si, fang, san and chuan.