Choice cuts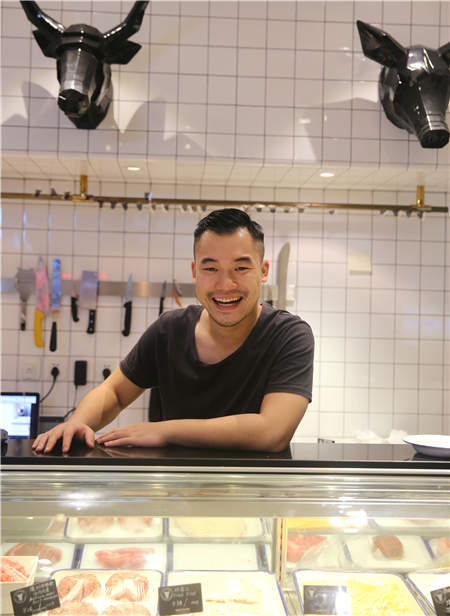 Shanghai native Liang Jiahao's My Butchery offers a wide variety of cuts, ranging from rib-eyes and ground beef to pork chops, and homemade pickles, cheese and sausages. Lu Minmin/China Daily
An enterprising butcher turns his European 'meat vacation' into an appealing new shop in Shanghai. Xu Junqian reports.
Liang Jiahao is still carrying what he labels "new store opening weight" - 10 kilos, two months after My Butchery was opened.
It may not be a bad thing, the 25-year-old Shanghai native jokes: his weight may make his first entrepreneurial venture more "legitimate and convincing". It's solid evidence of the goodness of the quality beef he has been trying to showcase for Shanghai over the past year.
"I am a meat-lover by every definition," says Liang, who previously worked at a wine import company in Shanghai. "More than that, I take great interest in seeing and finding out how meat is prepared before it arrives. But in Shanghai, the latter part of my hobby barely gets realized."
He has traveled all over Europe and paid as much attention - and tribute - as possible to local family-vibed butcheries, "like many tourists visit museums".
"If I learned one lesson, it's that butcheries don't have to be all dirty, bloody and smelly. And I want that in Shanghai as well," says Liang, comparing the notoriously greasy butcheries tucked in the corner of wet markets in the city, and elsewhere in China, with what he saw in other countries.
Despite the small space, Liang got Max Trullas Moreno, the designer behind names like Spanish restaurant El Willy and Nike, to recreate a bright and sleek shop with white tiles and blackboard walls.