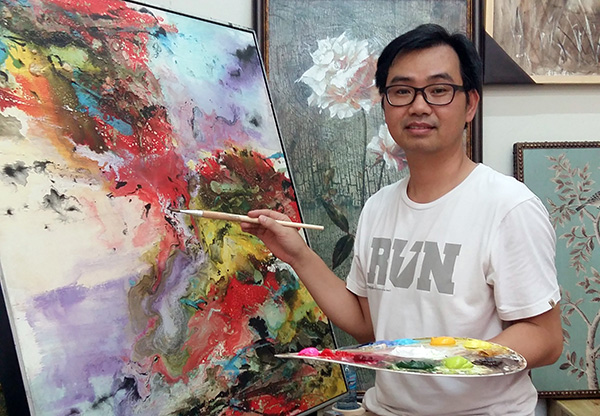 Wei Haihan has been a painter in Dafen village for 17 years. [Photo by Zhou Mo/China Daily]
It's been 17 years since Wei Haihan arrived in Dafen village as a recent graduate of the Guangxi Arts University and desperate to fulfill his dream of becoming a working artist.
"The village was quite different from what you see now. The infrastructure was underdeveloped; the roads were narrow and dusty, and our workplaces were small and simple. But it was a good time for us painters," recalled the 37-year-old, who runs an art gallery and a factory in the village.
Before the 2008 financial crisis, Wei's factory received numerous orders from buyers in the United States, Europe and the Middle East.
"We shipped 10 or more containers of oil paintings to overseas markets every month, each worth about 200,000 yuan ($30,000). This year, we are only sending three containers a month."
The oil painting industry has not recovered entirely from the crisis, and now it's dealing with another blow-the domestic economic slowdown and falling demand from hotels and government officials, which were once major customers.
A few years ago, a large number of painters left the village after being hit hard by the financial tsunami. Wei was also under great pressure. He was finding it increasingly difficult to make a living from his art, so he decided to leave.
He sold his apartment in Shenzhen and traveled to an inland city where a friend had recommended him for a job. However, Wei quickly discovered that he was working for an illegal pyramid sales operation, so he returned to Dafen to resume his career as a painter.
At one time, most of Dafen's artists made money by copying masterpieces by the great figures of Western art, such as Da Vinci, Van Gogh and Picasso. Now, as the business climate grows more harsh and customers' demands rise, many painters have started producing original artworks.
Wei now paints still lives featuring vases and flowers at his workshop near the village entrance. The prices of the paintings in his workshop range from several hundred yuan to 6,000 yuan. Although several people stopped to appreciate his craftsmanship, none of them bought a painting.
"In the past, we could sell a wall of oil paintings on a single day at weekends. Those days have gone forever," Wei said.
Despite the challenges, he is determined to stay this time. "It is normal that business has ups and downs. The sluggish market has certainly affected Dafen's painters greatly, but for outstanding painters, there is still a market to help us survive. More important, for me, oil painting is not just a business-it's the thing I love most."
Related: