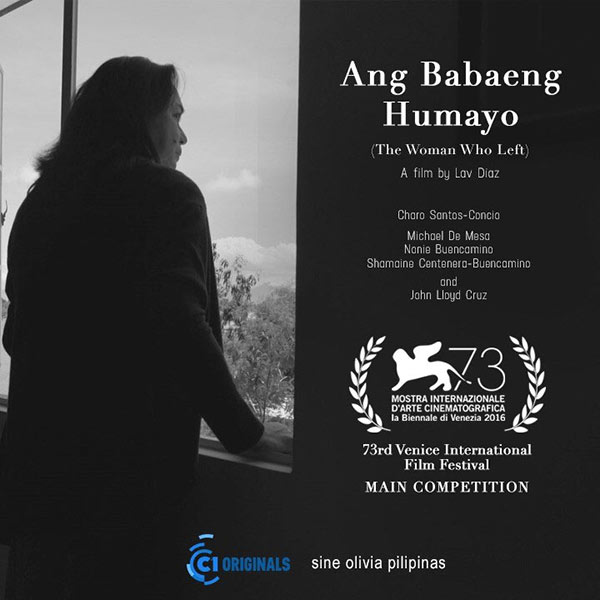 Poster of movie "The Woman Who Left" [Photo/mtime.com]
Philippine director Lav Diaz's nearly four-hour-long black and white revenge drama "The Woman Who Left" has won the Golden Lion for best film at the 73nd Venice Film Festival Saturday.
The director dedicated his award to his country.
"It looks beautiful. This is for my country, for the Filipino people, for our struggle and for the struggle of humanity. Thank you. Thank you. Thank you. Thank you so much."
The runner-up Grand Jury prize went to fashion designer Tom Ford's thriller "Nocturnal Animals" while the Best Director award was shared by Russia's Andrei Konchalovsky for the Holocaust drama "Paradise" and Mexico's Amat Escalante for "The Untamed.
Argentine actor Oscar Martinez received the Best Actor award for his performance in the comedy-drama "The Distinguished Citizen" while Emma Stone took the Best Actress prize for her role in the musical "La La Land."
Chinese actress and director Zhao Wei is the only Asian member among the nine jurors of this year's main competition, who's also presented the award for Best Director at the closing ceremony.
No Chinese film entered this year's main competition.
Venice Film Festival 2016: The full winners list
International Competition:
Golden Lion: The Woman Who Left (Lav Diaz)
Grand Jury Prize: Nocturnal Animals (Tom Ford)
Silver Lion for Best Director: Amat Escalante (The Untamed) and Andrei Konchalovsky (Paradise)
Best Actor (Volpi Cup): Oscar Martínez (The Distinguished Citizen)
Best Actress (Volpi Cup): Emma Stone (La La Land)
Best Screenplay Award: Noah Oppenheim (Jackie)
Special Jury Prize: The Bad Batch (Ana Lily Amirpour)
Marcello Mastroianni Award for Best Young Actor: Paula Beer (Frantz)
Horizons (Orizzonti):
Best Film: Release Me (Federica Di Giacomo)
Best Director: Home (Fien Troch)
Special Jury Prize: Big Big World (Reha Erdem)
Best Actress: Ruth Díaz (The Fury of a Patient Man)
Best Actor: Nuno Lopes (Saint George)
Best Screenplay: Bitter Money (Wang Bing)
Best Short: La Voz Perdida (Marcello Martinessi)
Lion of the Future:
Luigi De Laurentiis Award for Best Debut Film: The Last of Us (Ala Eddine Slim)
Venezia Classici Awards
Best Documentary on Cinema: The Graduation (Claire Simon)
Best Restored Film: Break Up, the Man with the Balloons (Marco Ferreri)
Special Awards:
Golden Lion for Lifetime Achievement: Jean-Paul Belmondo and Jerzy Skolimowski
Jaeger-LeCoultre Glory to the Filmmaker Award: Amir Naderi
Persol Tribute to Visionary Talent Award: Liev Schreiber