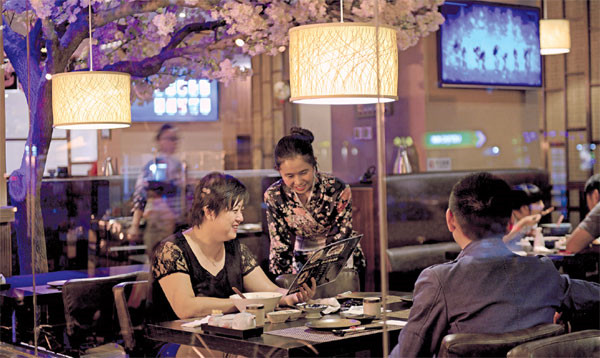 There is one more Japanese establishment on the list, Hanami, in Xicheng district, Beijing. [Provided to China Daily]
The display window cherry blossoms are fake, but the food is fantastic
If you were guessing which foreign cuisine is the most popular in Beijing, there is no doubt that if you said Japanese you would be on the money.
Japanese eateries are everywhere, in busy main streets, or in narrow, quiet back streets, and they always seem to be teeming with diners and customers waiting to take food away.
Now there is one more Japanese establishment on the list, Hanami, in Xicheng district.
Hanami, or flower viewing, is the Japanese tradition of strolling around taking in the beauty of the booming flowers, often cherry blooms, and the namesake restaurant adheres to the quiet beauty of Japanese style in furnishing and decoration, including tatami and wooden tables.
The restaurant is hard to miss in the line of shops and restaurants on busy Fuwaidajie avenue because its floor-to-ceiling window display features a big, beautiful tree complete with cherry blossoms. Of course the tree is artificial, but the visual effect is magic.
Not so clearly visible as that tree, but just as impressive, is the restaurant's culinary team and the food it produces.
The master chef is Wang Aimin, who leads a team with years of experience in Japanese kitchens. Wang himself was among the first Chinese chefs to learn and practice Japanese culinary art after the People's Republic of China was established in 1949.
He sets strict standards in the kitchen, including ensuring that only the finest ingredients are used, and drawing on authentic or original and innovative recipes.
"One characteristic of Japanese cuisine is that there is minimal processing and artful presentation, and in many people's mind Japanese food equates to healthy eating," Wang says.
"In this restaurant we are offering diners a refreshing experience of authentic Japanese food."
Preparing authentic, tasty Japanese food requires patience, skills, and quality ingredients. Some restaurants opt for the cheap and inferior and fail to stick to traditional recipes, Wang says, but Hanami promises to use the best ingredients and most authentic recipes.