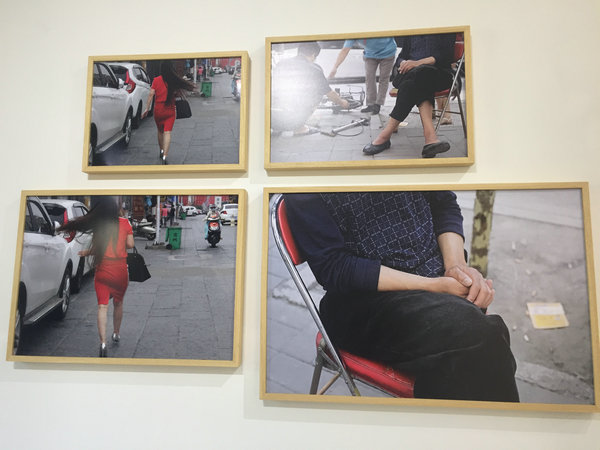 Charlotte EL Moussaed's works exhibited at Yishu8 Art Center in Beijing, Sept 11, 2016. [Photo by Li Hongrui/chinadaily.com.cn]
Black and white old photos pieced together with colorful picture-cut, a shot of a plastic bag of silk placed on a small platform, an image of a half-statue hanging from the roof of a hall…these are the works of French artist Charlotte EL Moussaed that were inspired by her understanding of Chinese ancient poems.
Beijing, in these images, is a fusion of the past and the present. There are people who smile innocently in the old photos, and colorful modern women who appear seductive.
Moussaed portrayed Beijing with the feeling she got from Chinese poems. And she used the name of Chinese poet Lu You's poem as the title of this series of works that were showcased at Yishu 8 Art Center in Beijing on Saturday.
"I got new inspirations from China, and found a relation between people and things. These works are the final fruit of my discovery," said Moussaed.
Through her eyes, visitors can see a city in which people and things are closely connected in a seemingly chaotic way.
"These works are a lonely stroll of a traveler, a period of boring time, a desire for reading and a short cultural shock," she said.
Moussaed's three months in Beijing brought her closer to Chinese ancient poems. The rhythm and beauty of the poems stirred her imagination.
She observed people and things and pictured Beijing based on her perception, observation and a little imagination.
"Beijing, a city that has so many people with different outlooks, is mysterious and hard to decipher," said Moussaed.
Yet, in her mind, those lonely souls, couples and families are her greatest interest.
"My stay in Beijing this time gave me some real freedom in creation. I put myself fully in the stories that Beijing and China told me. And this feeling is like a Chinese ancient poem with some fast pace, confusion, intoxication, and joy."
Jia Yue, founder of Yishu8, said Moussaed's works expressed the things she had experienced in the flesh. China is a great book with colorful images, which will provide endless inspirations to artists.
The exhibition will run until October 13.
If you go:
Yishu 8 Art Center, No. 20, Donghuangcheng North Street, Dongcheng District, Beijing