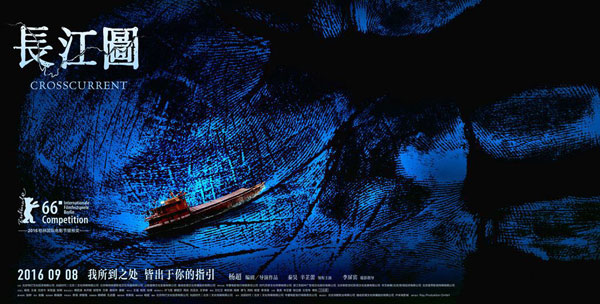 The poster of Crosscurrent. [Photo provided to China Daily]
As the only Chinese-language movie awarded Berlin International Film Festival this year, Crosscurrent reveals it has applied to compete for the Chinese submission of the foreign language Oscar.
A fantastic depiction on China's Yangtze River, Crosscurrent won the Silver Bear at the 66th Berlin film festival on Feb 21.
Wang Yu, the producer, revealed recently that they've handed the Oscar application to the country's top movie regulator.
The movie opened to the Chinese mainland on Sept 8, and will be released in the North America in early October.
Wang said China has seen a rise demand for art-house titles, but the country has yet to have a special cinematic chain for indie movies, which are common in Europe.
Yang Chao, the director, said his early years living nearby the Yangtze River gives him an emotional connection with the river, which epitomized China's rich cultures and history.