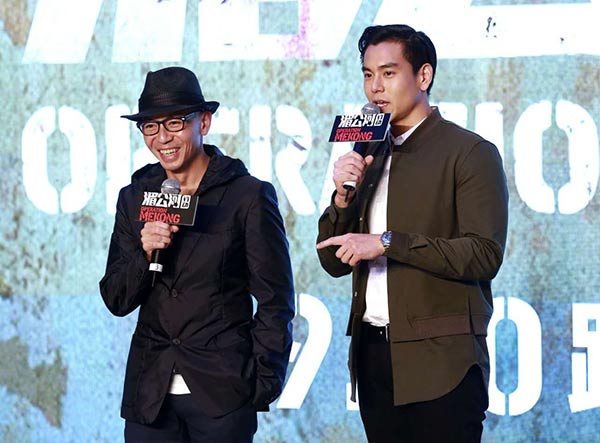 Dante Lam alongside the protagonist star Eddie Peng unveil the backdrops of Operation Mekong. [Photo by Feng Yongbin / China Daily]
During the filming of Operation Mekong, director Dante Lam was bitten by a giant, poisonous scolopendra and fell into a coma.
A documentary released on Tuesday unveils the stories in the making of the action thriller at the helm of Lam.
Set for a national screen on Sept 30, the film is based on the true story of Mekong Massacre — 13 Chinese sailors were slaughtered by a Myanmar drug ring on Oct 5, 2011.
Lam insisted on filming the action sequences in the remote jungles, mountains and rivers in Southeast Asia to re-create what happened five years ago.
The film took Lam three years on preparation and six months on photography in Thailand, Malaysia, Laos, Myanmar and Cambodia.
To investigate the massacre's details, Lam and his crew interviewed many people who were involved in the case.
Yu Dong, CEO of Bona Film Group, says the film is the first of its kind to show Chinese police's hunt of criminals on big screen.
"It's a breakthrough for the domestic police-themed films," said Yu.
Yu, behind a series of commercial hits such as The Taking of Tiger Mountain, predicts Operation Mekong will gross more than 1 billion yuan ($149.8 million) in box office.
Eddie Peng, the Taiwan star who plays an undercover, says Lam is a demanding director.
"He personally made some props, drove a car for a chasing scene and piloted a speed boat to catch some unlikely shots. While you were working with such a diligent director, it's really hard to say no to his requests," Peng said at the news conference in Beijing on Wednesday.
The film and cast have been confirmed to take part in the upcoming Xi'an Silk Road International Film Festival, which will run from Sept 19 to 23 in the capital city of Shaanxi province.