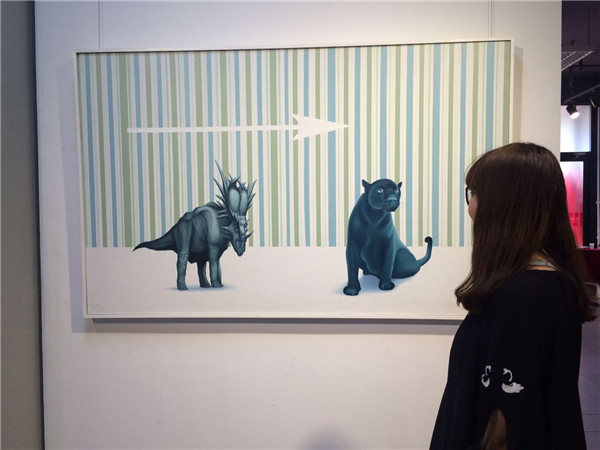 A visitor enjoys a painting at Chen Zifeng's solo exhibition "Boundary" on September 10, 2016. [Photo by Jiang Wanjuan/chinadaily.com.cn]
Chen Zifeng's latest solo exhibition is quite refreshing. Titled "Boundary", the 10-day exhibition features 20 carefully selected paintings of Chen's from 2013 to now.
Chen Zifeng's works rest between reality and the surreal, using both concrete and abstract elements. The 20 paintings are in a harmonious blue color based tone, creating a cold and mysterious feeling.
"I always try to express the relations between time, space and dimension," he said. "In fact, space is not only the space that exists. Every man's inner world is a universe and his inner space and time is as rich and mysterious as well."
Visitors will see that screen space is accurately calculated in each of Chen's paintings, where imagined objects are projected onto a concrete and tangible space.
This is Chen's seventh solo exhibition after he became a professional painter in 2007. His works have been included in many major exhibitions in China and have also been exhibited in South Korea.
The soft-spoken artist from Hunan said he would work hard to present his works to a larger international audience, hoping to one day join the Venice Biennale.
The exhibition will last until September 20 at the Onyx Gallery in Beijing's Shangba International Art Center.