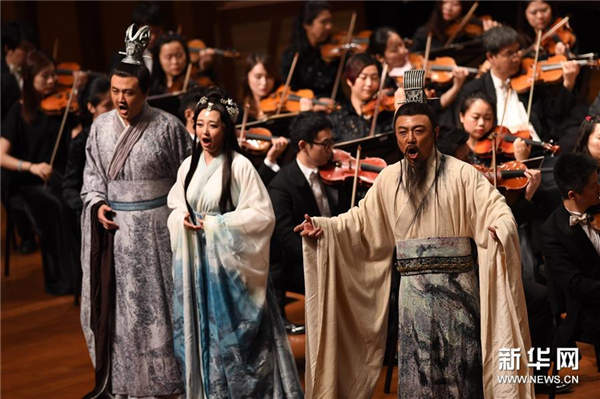 Actors perform selections from opera Du Fu in Beijing, Sept 7, 2016. [Photo/Xinhua]
The "2016 National Art Troupes Show Season", hosted by China's Ministry of Culture, was unveiled in Beijing on Wednesday. A concert featuring China's classic operas from the China National Opera House was staged at the National Center for the Performing Arts as an opening show.
From now to mid-October, 29 newly created and excellent plays from the China National Peking Opera Company, China National Symphony Orchestra, China National Theatre for Children and the National Ballet of China, will be staged. There will be 62 shows, all of which have low ticket prices, with more than 50 percent costing less than 100 yuan (around $15).
This year's show season will mainly focus on presenting the latest artistic creations and highlight others from all participating troupes, including the themed works on celebrating the 95th anniversary of the founding of the Communist Party of China, as well as the 80th anniversary of the Chinese Red Army's Long March. The modern Peking Opera Daughter of the Communist Party of China, ballet production evening gala Journey, drama Du Fu, musical Love of the East, child play Time Forest from the troupes, as well as world classic plays such as opera Das Rheingold and ballet dance drama Dancing Girl, will be shown during the season.
The Culture Ministry has presented the "National Art Troupes Show Season" since 2010, putting forward more than 200 plays and more than 500 shows.