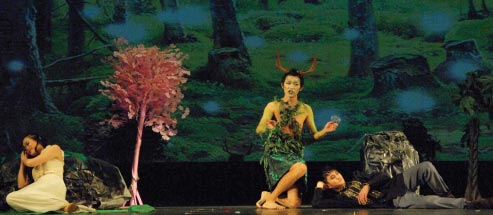 Student production of William Shakespeare's play A Midsummer Night's Dream. As amateur productions go, the Gongshang Shakespeare shows are quite professional. [Photo by Bei Yu/China Daily]
He Yue had her first exposure to Shakespeare in the late 1980s, when she stumbled across a complete edition owned by an expatriate teacher.
Curious, she borrowed it. The language was a bit difficult for her to understand, but she managed to digest the general plot lines, which she found fascinating.
That little seed has blossomed into a leafy canopy.
For several years now, the Zhejiang Gongshang University teacher has directed students in productions of the Bard's works that are nothing short of astounding for amateur players. And they do it in the original English language to boot.
In 2012, she presented a night of nine Shakespeare selections; the next year saw the school's King Lear highlight winning the best actor award and the audience award in a Hong Kong competition; 2014 brought a lavish production of five Shakespeare selections interspersed with classical musicals. A complete version of Romeo and Juliet was produced early this year and another "best of Shakespeare" night, with six segments, will grace the stage, come October.
Curtis Evans, an American who had been teaching at Gongshang for around seven years and who was one of the jurors for the 2012 and 2014 performances, says the English level of some of the students can match that of professionals.
He Yue teaches English and American Theater as a university-level elective course and Shakespeare as another elective at the university's Foreign Languages College. The performances are part of the latter course, with every student participating in at least five Shakespeare segments. They are graded on this at the end of the semester. But what are essentially semester-end presentations have turned into wildly popular galas-tickets are gone within minutes. Very often, additional seats have to be added and even the aisles get occupied.
Speaking of how the stage performances help the students, Qian Xiaoxia, a fellow ESL teacher who has encouraged her students to use He's class as a means to hone their language skills, says: "Many of the students had not spoken up in class before they took part in this theatrical experience."