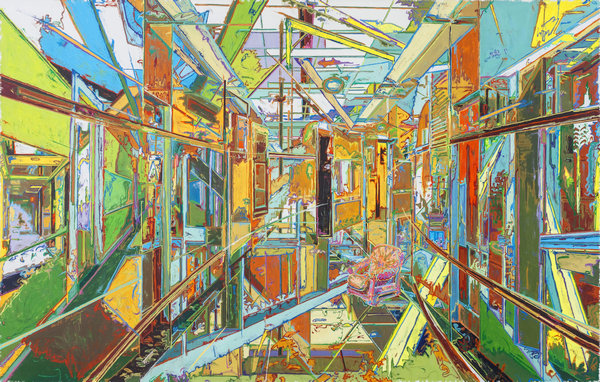 Oil painting Forgotten Vacancy by You Jin is among the exhibits at his upcoming solo show The View of Heterotopos at the Alternative Space Loop gallery in Seoul. [Photo provided to China Daily]
Art graduates are now increasingly opting to create installations, videos and other mixed-media pieces. But You Jin is different. The artist, who majored in multimedia art, is focusing on painting-a subject that he has been fascinated with since his teens.
You, 37, studied graphic design, video making and 3-D technology at the Lu Xun Academy of Fine Arts in Shenyang, Northeast China's Liaoning province, between 2001 and 2005.
But after graduating, he moved to Beijing where he has since focused on oil painting, developing a highly personalized style.
You, who has exhibited at home and abroad, is now set to present a solo show titled The View of Heterotopos, on Friday at the Alternative Space Loop gallery in Seoul, South Korea. The gallery has been promoting avant-garde and experimental art since it was set up in 1999.
The Seoul exhibition, which will run through Oct 2 and be followed by another show in Hong Kong, celebrates You's development as a painter over the past three years.
Speaking of his work, You says: "I see new challenges when I complete a painting, and feel that I can make improvements in my next work.
"Creating on a single surface is most difficult."
He adds that painting allows him more freedom and intimacy, when compared with graphic designing and video productions, which require teamwork and where you need to make compromises.
He says there is no possibility of the art of painting dying because it is from here other artistic forms originate.
"It is the essence of human society, since ancient people drew totems.